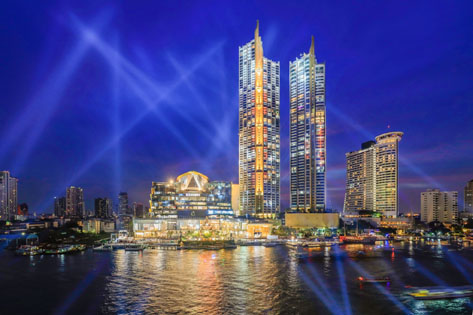 WHEN developers decide to crown their US$1.65 billion luxury mixed-use project with an hi-tech facility for conferences and concerts, it gives more than a hint of how serious major players in Thailand are about attracting more international business events
IconSiam, the mixed-use complex on the banks of the Chao Phraya, is not only a feather in the cap for Bangkok's vision for the city, it reflects a fresh outlook in Thailand with the rise of a young middle class and a new era after the coronation of the kingdom's monarch.
Before reading further, click on our QUICK SURVEY – you could be wheeling away a superb piece of carry-on luggage!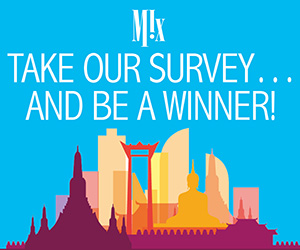 More changes are on the way for Bangkok's iconic artery with riverfront walkways planned for either side to attract more visitors. The plans, however, have not been without controversy with conservationists and riverfront dwellers objecting. Hoteliers and DMCs, however, broadly welcome the prospect of waterfront pedestrianisation.
John Blanco, general manager of the Capella Bangkok, which is due to open across and downriver from IconSiam this summer, described the plans as continuing the "renaissance" of the river. "We love the idea. Anything that brings visitors to the river should be embraced completely – it just takes time to get everyone on board and looking in the same direction," says Blanco.
Like a string of other hotels and businesses along the banks of the Chao Phraya, the Capella works with Bangkok River Partners, which was set up to help counter the negative images arising from the street protests of 2010. Blanco says the partnership not only serves to promote the river area – including 11 hotels – but helps with a revival of neighbourhoods and the early days of modern Bangkok before hotels and restaurants serving visitors gravitated towards the centre of the capital.
"Historically, everything started at the river with temples, embassies, Chinatown and later with grand dames like the Mandarin Oriental and The Peninsula – and even the first road in Bangkok.
"Eventually everything migrated to the CBD where there's a lot of density, hence the traffic. Now you have more development on the riverfront, so the differentiators for me are location, because down by the river is the true Bangkok.
"You have the ability to move about more, particularly with incentive groups, and to make for a rich itinerary that is far more romantic and memorable viewing it from a boat rather than in the traffic.
"There is an incredible history stretching around that area, such as Chinatown – a traditional area, but reinvention is happening there: old shophouses turned into galleries, restaurants, creative spaces, so there's this new energy in an old area which makes for very rich content."
New river icon
IconSiam and its eight levels of space score a number of firsts. Amid the 500 or so outlets there is Thailand's first Apple store, a Porsche Studio and Takashimaya, the first branch of the Japanese department store to open in the kingdom.
This glass-facaded addition to the Thonburi side of Chao Phraya waterfront is in stark contrast to the old diplomatic compounds and classical features of the Mandarin Oriental across the river. Yet the intention is for Chao Phraya's heritage to be preserved while reflecting Thailand's growing profile in the Asean economic region.
Meetings, conferences and business event – including incentive travel – are seen as a vital component of the new outlook, so IconSiam's owners made the bold move building a conference and events centre on the top levels.
BUYER VIEWPOINT:

"THERE are substantial developments along the river and other parts of Bangkok city centre, and this helps greatly in terms of the variety of options for us as an incentive and meeting planner.

One of them is BAB Box (Bangkok Arts Biennale @ One Bangkok). It's designed both as a museum and venue, so we can use it for cocktails. And, of course there's IconSiam, which is now one of the popular places on the river. All this helps us design our activities near these venues as guests can visit, or we can drop them off after the group's dinner.

We recently had a group of 150 people in Bangkok from an international electrical company. I believe the reason they chose Bangkok was due to the value of investment in having an event here. The hotel rates are reasonable, and Bangkok offers a good variety of dinner venues; cultural activities can also be part of the itinerary."
True Icon Hall on the seventh storey has state-of-the-art audiovisual facilities and top-grade soundproofing in its 12,000 sqm of event space.
Emboldening IconSiam's business event credentials is the latest automated retractable system for the 3,000-seats in the main hall. There are also 14 meeting rooms with capacities ranging from 20 to 200 seats, with some areas that can be combined to sit 600 for a conference.
The IconSiam complex will be complete when two residential towers – one being the first Mandarin Oriental-managed serviced residence – open to join other long-stay properties along the river such as The Chatrium and Four Seasons.
Capella Bangkok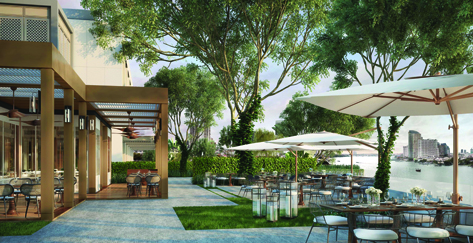 Organisers can expect the Capella's event venues to be all river facing with the 750 sqm Grand Ballroom boasting floor-to-ceiling windows. There are also the 288 sqm Felicity Suite and four Atelier breakout rooms while the Courtyard can host outdoor events.
Capella Bangkok will offer customised event planning and catering options, but the property – with 101 suites and villas – will be primarily geared towards high-end meetings and small incentive groups with post-meeting activities based on the area's art history, culture and cuisine.
Avani+ Riverside
The 26-storey Avani+ Riverside's rooftop bar-restaurant and VIP lounge have been renamed SEEN, a brand created by the "chefpreneurs" who opened outlets of the same name in Sao Paolo and Lisbon. SEEN restaurant offers seating for 185 guests with a mix of indoor and outdoor spaces.
DOWNTOWN BANGKOK
The Sukhothai Bangkok – Executives seeking a calm urban oasis in the city usually have a few choices, but few are set within tranquil, expansive grounds. Sukhothai Bangkok is one of those rarities and the property recently upgraded its Sukhothai Club Wing with C-suite executives in mind. Garden villas where top bank executives once resided are now unique venues for meetings or low-key business events set in the glades of the Sukhothai garden.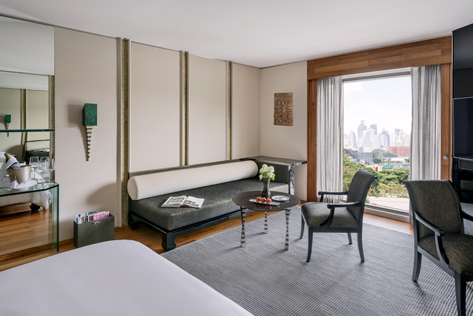 The Sukhothai also re-opened its classic Italian restaurant La Scala after a major renovation with a private dining room and pizzeria among the features.
Elsewhere, new openings include the Rosewood Bangkok while the 382-guest room Avani Sukhumvit Bangkok will become the third Avani in the city in June, when it is due to open. Also set to open in the same month is Mövenpick BDMS on the site of the former Nai Lert Park, which is set to feature extensive MICE and wellness facilities, and set within an expansive garden. Renovation at Queen Sirikit National Convention Centre is due to be completed In 2022, featuring a new 4,700 sqm special functions facility amid its total of 55,000 sqm of event space in addition to three five-star hotels.
CHINATOWN
Homegrown hotelier Bursaria is building its portfolio with a new resort off Phuket island, but its Shanghai Mansion Bangkok at the entrance to Chinatown at Chaloemburi junction with Soi 2 would appeal to small groups with a penchant for the city's heritage and the jazz era.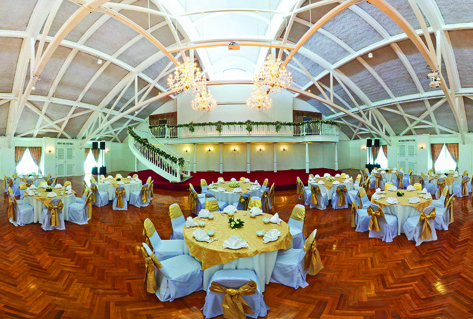 The 76-room boutique property features a classical ballroom (above) that was once hosted Chinese opera. These days it still bears the heritage look and can host 400 people for sit-down dinners while for meetings there is the Art Deco parlour.
More event space can be found on the roof and there is also the "hidden gem" of the Shanghai Mansion's basement jazz bar.
Centara Grand
Centara Grand & Convention Centre at Central World Bangkok is declaring itself Thailand's top MICE hotel for 2019 as it forecasts a total of 89,000 delegates.
A busy calendar of international events scheduled for the next few months includes the Techsauce Global Summit 2019, which is expected to attract 15,000-plus delegates over three days in June.
The Royal Australasian College of Surgeons' Annual Scientific Congress and the International Conference on Biodiversity were held in May.
In June, the International Epilepsy Congress, and Thai Dental Association Annual Meeting are due to take place and ASCO 2019 Breakthrough Thailand – a gathering of American oncologists – is scheduled for October.
Centara is taking the opportunity to raise the profile of the group's innovative New Agenda: Meetings Redesigned concept built around experiences that include a "meetings guru", a teambuilding partnership with Asia Ability and gatherings such as Dinner in
the Dark.
Located alongside 505-guest room Centara Grand hotel, Central World Bangkok features a convention centre with 5,250 sqm of space for up to 7,000 delegates, a ballroom that can seat 1,000 theatre style and a range of flexible meeting rooms. l
PHUKET UPDATES
DRAGON-BOAT incentives are being launched by Sala Phuket to let groups bond by paddling down backwaters that open up to the front of the resort. Phuket is also set to see the opening of  Blue Tree – an entertainment complex and water park with dedicated MICE facilities.
Off the east coast of Phuket, Island Escape by Burasari is expected to open in two stages on Koh Maproaw (or Coconut Island) with 58 villas to open first followed by 200 guest rooms.
Guests can be taken to Maproaw by Island Escape speedboats, or other ferry departures, from Port Lagoon near Royal Phuket Maria for the 10-15 minute journey. Excursions can also be arranged to Rang Yai island just north of Mapoa and other secluded beaches.
Island Escape is expected to make a soft opening with 15 villas in July, says assistant sales and marketing director, Sherry Jan. The rest of the resort is set to open in early December with a section designated for adults.
Jan says dining on the beach is among the groups activities aimed at incentive groups with marquees also available for events. One lounge area at Island Escape can double up as meeting space for 25 people but the larger foyer can also be used for refreshment breaks or cocktails.