BUSINESS Events Australia is doubling down on efforts to encourage international groups to return by revealing continued funding for its association bid campaigns and documentary-style  videos highlighting the country's technical expertise.
Australian government support for the Bid Fund Program has been extended for another year thanks to a grant of A$3 million.
Tourism Australia managing director Phillipa Harrison said "With Covid-19 restrictions lifting and consumer confidence rising, this program will continue to assist those bidding against international competitors for events and continue to position Australia as a leading business events destination."
More… B.E Australia rolls out planner toolkit
The latest instalment of Australia Innovates is a video series available on the Business Events website which showcases six Australians pursuing research, discovery, invention, innovation and intervention across several knowledge sectors including artificial intelligence, health, nanotechnology, environmental restoration and advanced manufacturing.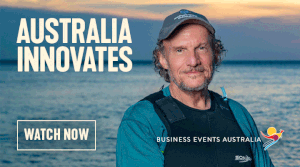 "Our 'Australia Innovates' videos series highlights Australia's expertise across a wide range of fields, positioning us as a world-leading association meetings destination where delegates can experience innovation firsthand," Phillipa Harrison said.
"Innovation in Australia is constantly thriving. Over a billion people around the world rely on pioneering Australians like marine biologist Prof. Peter L. Harrison (above), who developed a new technique to facilitate coral IVF on mass, increasing environmental restoration," she said of one of the experts profiled in the video series.
Main picture: Materials engineer Professor Bronwyn Fox who is featured in the new video series