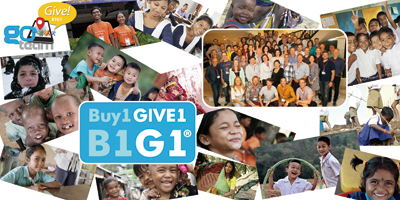 Treasure hunts. Long gone are the days when these involved trailing the landscape with a pen and pad in hand to solve a series of pre-laid clues. Since launching over 25 years ago, Catalyst Global – the world's largest network of corporate teambuilding providers – has mastered the game on tablet, and, most recently, connected teams in 40 countries for an entire day of competitive bonding.
A world-first, the network's 'Go Give' event in December saw 53 teams in 40 countries take part in a 24-hour continuous treasure hunt.
In addition to inspiring employee collaboration, the event supported global business giving initiative Buy1GIVE1 (B1G1) by raising 'impacts' – the unit of measure the organisation uses for every act of giving. B1G1 supports causes across the world that help provide nutrition, medication, and education to at-risk groups, sewing machines to women, live poultry stock to families, and irrigation systems to villages among other things.
Winning Pitch
After becoming a lifetime member of B1G1 in 2015, Catalyst Global worked to design a teambuilding solution that could incorporate collaborative CSR. Go Give is an extension of the network's Go Team treasure hunt app.
"Capitalising on a giving concept though a consistent, genuine CSR programme is a win-win solution," said Esther Daniel, head of marketing for Catalyst Global.
"The benefits go beyond the joy of giving, when employees participate in an organised giving programme, there is usually a process of learning and engagement as a group."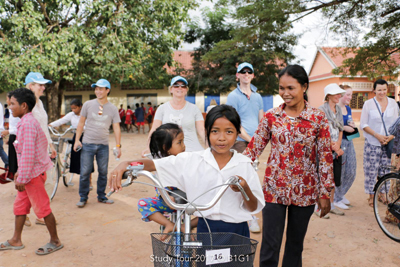 Highlights
Go Give kicked off at 6am on December 12 in Auckland, New Zealand and followed the path of sunrise around the world, ending 24 hours later in Mount Manganui.
Teams attempted to complete as many checkpoint challenges as possible in a given time frame, with activities spanning photo, question and video tasks. Each challenge was aligned with a certain B1G1 project, allowing participants to select the project they wanted to support on completion of an activity.
Stuart Harris, co-founder and managing director of Team Building Asia, a Hong Kong-based member of the Catalyst Global network, said: "For me, the event started when I woke up at 6am and checked the social media around the event. New Zealand was the launch, then onto Australia and onto Asia.
"I was pretty excited to be involved in Hong Kong and Shanghai. Our 20 minutes was quick and smooth and we thought we were in second place, but that changed throughout the day as other partners completed their challenges.
"It was amazing to be involved in this first 24-hour digital treasure hunt and the impacts were huge," said Harris.
Upshot
The event raised 19,641 impacts – a unit of measure for the effect a giving has – to support various regional initiatives.
Participants were also rewarded. Prizes were given across three categories, with Ireland named as the overall winning team, India as the winning partner, and Dubai the highest pledger. All winnings were donated back to B1G1 projects.
A draw was held for one participant to win a trip to Cambodia to represent their team and the network at the upcoming B1G1 Study Tour in January.
The winner, Joanna Hall of Team Up Events, New Zealand, said: "The chance to make a difference and to see the effects of our efforts on behalf of the Catalyst Global Network will be hugely rewarding".
Checklist
Event: Go Give
Organiser: Catalyst Global
Venue: Across 40 countries
Attendees: 52 teams
Big Moments: Team Up Events' Joanna Hall winning a trip to Cambodia for the B1G1 Study Tour
Date: December 12, 2016