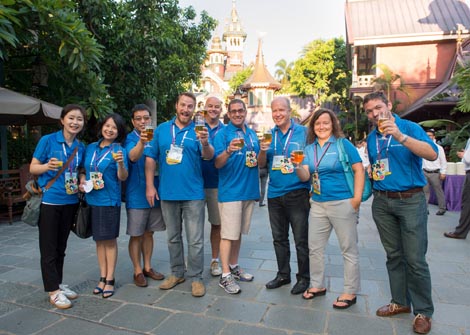 A buyout of Disneyland Hong Kong's 'Frozen Village' was how the International Association of Amusement Parks and Attractions (IAAPA) chose to entertain delegates of the three-day Asian Attractions Expo, hosted by the IAAPA. The 'Frozen Village' is the newest attraction at Disneyland since the IAAPA hosted its last event at the theme park in 2012.
Winning Pitch
Timed with the launch of the 'Frozen Village' at Disneyland Hong Kong's Black Box event space, a networking event on the second day of expo gave 650 delegates the chance to relax away from Hong Kong's summer heat. Immersive experiences were on offer at the 'Frozen Village' as well as attractions such as the wild west and adventure-themed area Grizzly Gulch, Mystic Points and the 'Disney Paint the Night' parade.
Highlights
Delegates were transported via a shuttle service that allowed them private entry to Mystic Point's West Gate where they were welcomed by Hong Kong Disneyland Resort's managing director Andrew Kam and Disney characters Mickey and Minnie Mouse.
Themed areas Grizzly Gulch and Mystic Point were open only to IAAPA delegates, and were given as prime spots during the luminescent 'Disney Paint the Night' parade and daily fireworks. Characters from the 'Frozen Village' such as Queen Elsa, Princess Anna and Kristoff joined the festival show, and delegates hopped on toboggan rides and other winter attractions recreated in the 'Black Box' space. a Entertainment offerings included a flaming knife show and appearances from Disney characters Timon, Rafiki, Balou and King Louie.
Catering was provided in the form of a buffet with food stations arranged across the open spaces of Grizzly Gulch and Mystic Point areas, while a Disney-themed dessert spread was arranged outside the 'Frozen Village'. The evening was rounded out with the eight Disney characters bidding the guests good night.
The Upshot
Managing the 650-strong group was made easier by dividing them into two groups, and rotating groups through the activities so that all delegates were able to spend enough time at all of the attractions on offer. Appearances from Disney characters enlivened pauses throughout the day while new attractions offered returning delegates from the 2012 event a fresh experience of an iconic theme park.