CHINA'S southern coast city of Xiamen is strengthening its international MICE industry credentials following the involvement of congress organisers association ICCA in creating the education programme for a week-long series of events.
ICCA chief executive Senthil Gopinath and his management team met in Xiamen during International MICE Week to hold the ICCA Global Executives Round Table Conference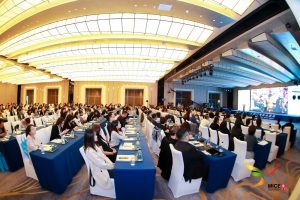 During the November 9-14 conference, new members joined ICCA and an MoU was signed to increase further collaboration.
Xiamen is one of the economic regions being promoted by China to further international trade and collaboration. The port city has long been a key economic powerhouse and faces the Taiwan Strait.
ICCA was invited to attend Xiamen International MICE Week by its three members in the city: Xiamen Municipal Bureau of Convention & Exhibition Affairs, C&D Global Tourism Group and ITG MICE Group. It was the first time ICCA's Global Executive was held outside its Amsterdam headquarters.
Noor Hamid, ICCA's Asia-Pacific director visited Xiamen for training and knowledge exchanges in October and Xiamen bureau general director Jeoven Wong led a delegation to the 58th ICCA Congress in Houston, Texas.
"The convention and exhibition industry plays an important role in promoting the urban economic transformation and industrial upgrading of Xiamen," Wong said.
Senthil Gopinath picked as ICCA chief executive
"ICCA is one of the most important global partners to reach out to the international MICE business. I am honoured by the large delegation ICCA brought to Xiamen and thankful for their contribution to the educational content of the 5th edition of Xiamen MICE Week.
"We are looking forward to further intensify our long-term strategic cooperation with ICCA to further develop Xiamen's international convention and exhibition industry and win more association meetings business," he said.
China has the most ICCA members of any other country with 84 member-organisations and the number continues to grow, according to the association.
During its time in Xiamen, ICCA welcomed new member Shaanxi Meton Conference and Exhibition Management and others showed an interest to join ICCA's global community.