Tranquil Resort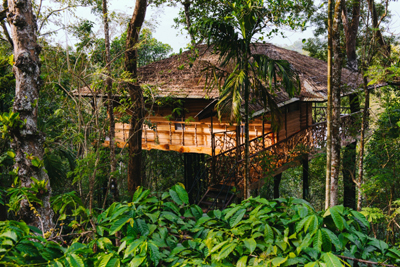 Where is it? Wayanad, Kerala, India, three hours from Calicut, the so called City of Spices
What makes it special? Just over 300 sqm, the Tranquil Resort's tree house is straight from a child's wildest imagination. Nestled in thick plush jungle, it sits 10 sqm above a fully functioning spice plantation. Guests are invited to become one of the family and tending the plantation is encouraged. Coffee is the main crop but also grown is pepper, cardamom and areca nuts. Home cooked Indian fayre is on the menu every night with guests dining at the family table.
MICE offerings: The Tranquil resort can comfortably accommodate modest size groups looking for a more unique experience. Tending the coffee and crops is just one of the activities on offer. There are 12 hiking trails, offering varying degrees of difficulty, around the plantation and a number of temples within a short distance. At the heart of any stay, though, is the communal dining experience. Described as having the best food in region, the experience has also been likened to a "grand coffee planters private house party".
Group sizes: Up to 25, but enquiries must be made for large groups.
Contact: tranquilresort.com
Ariau Amazon Towers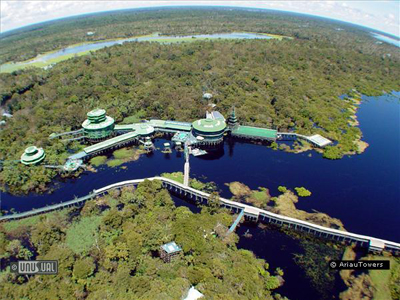 Where is it? 56 km northwest of Manaus, in the Brazilian Amazon
What makes it special? A magical destination, Ariau Amazon is only accessible by boat or helicopter. It's a minor inconvenience when considered that the hotel is literally built into the rainforest treetops and overlooks the Rio Negro and the Anavilhanas Archipelago. nine km of tree top catwalks mean that visitors can explore one of the world's natural wonders with an unrivalled sense of freedom, safe in the knowledge that the eco-system underfoot has been left undisturbed.
MICE offerings: Despite being nestled among the treetops, the Ariau Amazon Towers Hotel can cater for large groups. The main event auditorium has a capacity of 500, whilst the amphitheatre can sit the same number again. Two dedicated heliports can quickly shuttle guests to and from the facility. On site, multi-lingual guides can provide delegates with detailed information on the surrounding flora and fauna. Should you want it, high speed internet allows for a constant connection to the outside world. Otherwise, two restaurants, canopy level pools and luxury accommodation packages invite guests to disconnect entirely.
Group sizes: Two groups of up to 500 people can be catered for in each of the main conference facilities.
Contact: ariauamazontowers.com
Tree Tops Jungle Lodge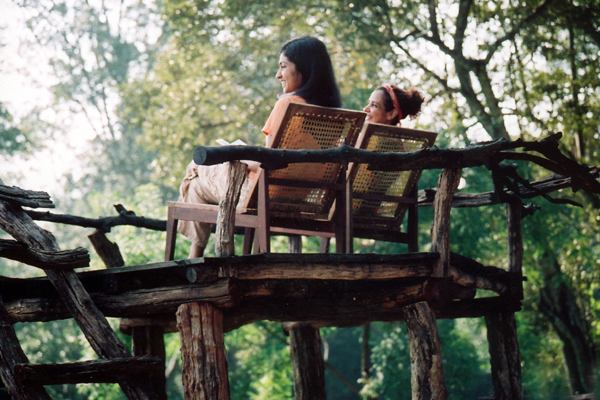 Where is it? Sri Lanka, 10km southeast of Buttala,
What makes it special? With no electricity and a freshwater well for water, the ecolodge provides a real back-to-basics experience. Elephants are among the camp's most common visitors, often dropping by at night they can be heard trumpeting, but seen only as shadows. The unfenced accommodation is situated amongst the Weliara jungle and a four man team of trackers can escort groups on jungle excursions and wild elephant spotting expeditions.
MICE offerings: Minimal facilities mean that teamwork is of top priority. Communal meals are prepared on a wood fire, whilst the remote location means that connection to the outside world is restricted to emergencies only. This is the perfect place to focus commitment and encourage strong team dynamics.
Group sizes: Suitable for a maximum of 12.
Contact: treetopsjunglelodge.com
Granlibakken Conference Centre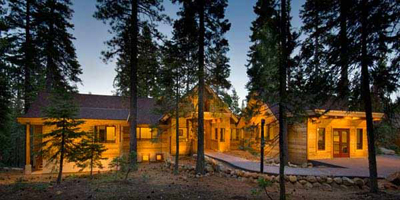 Where is it? On the banks of Lake Tahoe, California, the largest freshwater lake in America.
What makes it special? This purpose built conference centre is perfect for those who want to experience the majesty of nature, without sacrificing the latest conferencing technology. Situated 30 meters above the ground, the centre's tree top adventure park is a Californian first. Guests' bravery, intelligence and teamwork will be put to the test as they climb their way through 30 hectares of spectacular woodland. It's the perfect way to bond new groups and inspire existing teams.
MICE offerings: The facility's main conference centre has 16 meeting rooms, with 7,500 sqm of combined indoor and outdoor space. As modern, purpose built facility, high speed internet access and phone lines mean that, even in this secluded wilderness, technological conveniences don't need to be left behind. An "executive lodge" is also available which is separate from the main centre and features four smaller rooms for more intimate meetings. Accommodation ranges from seven-bedroom luxury wooden lodges to more modest shared-room chalets.
Group sizes: A maximum of 400 people can be catered for.
Contact: granlibakken.com