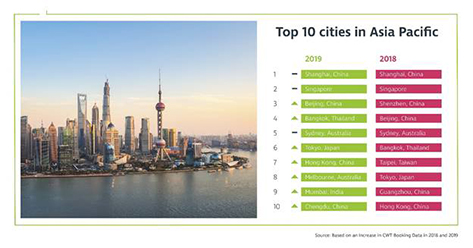 Attending a major travel trade show is one of the best ways to keep abreast of the ever-changing meetings and business events industry. Whether you are a buyer or an exhibitor, it is a chance to forge new connections, strengthen business relationships and showcase the best of what you have to offer to others in the industry. From the success of AIBTM in Orlando to the upcoming ITB Asia show in Singapore, Marisa Cannon and Elizabeth Wood round up the key happenings from the top travel trade shows around the world.
A New Chapter
Following a successful summer show in Orlando, the Americas Incentive, Business Travel & Meetings Exhibition (AIBTM) announced a new name and format for future events. Moving forward, AIBTM will be known as IBTM America, and access will be on an invitation-only basis for both buyers and exhibitors.
Sallie Coventry, portfolio director, IBTM Global Events Portfolio, says the new format will be more personal, with one-on-one appointments and intimate networking experiences.
"It's exclusive and private, similar to the two successful launches of the table-top 1-1 mutual match event concept with both IBTM India and IBTM Africa. We have extended the creative concept from a table top to a private booth with branding space that ensures an intimate environment, and a turnkey solution, that gives both buyers and sellers a focused face-to-face meeting space," she adds.
This year's show attracted 1,200 buyers and 508 exhibitors. The 2015 edition will be held in Chicago, and will host 250 buyers with booths available to 250 exhibitors. The exhibitor breakdown will be 60 per cent domestic and 40 per cent international.
New Korean Venues
Korea MICE Expo (KME) marked its 15th anniversary with over 4,000 visitors in attendance at one of South Korea's largest international venues, KINTEX. From June 19-20, the travel trade fair attracted buyers from 31 countries, including Europe and the USA, as well as 244 domestic and overseas exhibitors.
The Korea Tourism Organisation hosted a series of welcome events to showcase developing venues in Seoul, such as the Raum, a 'modern day castle', and expanding outlets around Coex Convention and Exhibition Centre. Seoul was ranked fourth in the 2013 International Meetings Statistics Report by the Union of International Associations.
Seoul's Floating Island also featured as a venue highlight – a collection of three artificial islands home to a marina, convention hall, a multipurpose hall and huge LED screen. Meetings destinations in Pyeongchang, Daegu and Busan were also highlighted as competitive alternatives to the capital.
Luxury Living
Luxperience 2014 is celebrating a jump in growth from last year, with 33 per cent more exhibitors expected at the Sydney exhibition, held from August 31-September 3.
"We have seen far more boutique properties in unique locations signing up to showcase their product at Luxperience alongside household names, such as newly added Pretty Beach House in rural New South Wales and Islington Hotel, Hobart," says Lindy Andrews, CEO of Luxperience.
Hosted alongside the show is the Luxperience Thought Leaders' Forum, where industry experts share their knowledge. Among the presenters is Francesco Galli, CEO of Aqua Expeditions luxury cruises, and Chris Farquar, managing director at Cimigo Research, who will discuss the travel preferences of the Chinese high-end traveller.
Big Spenders
Chinese business events buyers who attended the 2013 installment of the China Incentives, Business Travel and Meetings Exhibition (CIBTM) event in Beijing invested US$230 million in the previous year on hotels as meetings venues, according to the IBTM Meetings Industry Report. The findings suggest there is huge potential for growth at this year's event, which takes place at Beijing's China National Convention Centre from September 17-19.
The research also identified that the overall combined annual budget of the accredited global hosted buyers from the corporate sector, associations and other agencies was US$32.6 billion, giving an average annual budget of US$28.7 million for each hosted buyer.
Jacqui Timmins, exhibition director CIBTM, Reed Travel Exhibitions, says it is clear that Asian economies continue to demonstrate much higher investment figures than those from elsewhere in the world, outlining the growth of the business events industry in the region. She adds that the annual trade show provides a valuable gateway for international exhibitors to meet and expand their business into China.
"Buyers attending CIBTM are increasingly seeking new hotel venues, presenting a unique prospect for international hotel exhibitors looking to increase their customer base in China. CIBTM creates a platform for international hotels to showcase their properties to buyers from China and the rest of the world."
Green Agendas
The fourth edition of IMEX America in Las Vegas, beginning October 14, will be marked by exhibitor growth and new services in key areas. There will be more than 25 new booths hosted, including Pan Pacific Hotel Group and Baha Mar from the Caribbean, as well as expanded booth presence from existing exhibitors Four Seasons Hotels & Resorts, Marriott International and Hyatt International, among others.
The show will introduce new elements that include the enterprise app, created by Quickmobile, which was designed for exhibitor use, plus a range of added customer-led services for first time hosted buyers, such as early morning orientation tours and pre-show concierge calls.
"We are delighted to see the support for the show growing again this year from both the supplier and buyer communities," says IMEX group CEO Carina Bauer. "Hosted buyers and buyer attendees will have an ever expanding wealth of top suppliers to meet with, from all sectors of the industry and from all around the globe at the show."
Global Access
ITB Asia 2014 is set to take place from October 29-31 at the Sands Expo and Convention Center, Marina Bay Sands, Singapore. The three-day programme will feature hundreds of exhibitors from the Asia-Pacific region, Europe, the Americas, Africa and the Middle East representing every sector of the industry from airlines and airports to hotels and resorts, theme parks and attractions.
Organised by Messe Berlin (Singapore) and supported by the Singapore Exhibition and Convention Bureau, the event, now in its seventh year, has grown both in size and stature. Around 9,000 visitors attended the 2013 edition from 110 different countries around the world, making it one of the region's most internationally represented travel trade events.
Nino Gruettke, executive director of ITB Asia, says the hosted buyer programme is an integral part of ITB Asia's ongoing growth and success, helping to bring together the key regional buyers and decision makers.
"The programme has proven increasingly successful year-on-year and continually attracts top quality buyers. Interest from MICE and corporate buyers in particular has been strong. Showcasing over 800 exhibitors from over 70 countries, ITB Asia is the ideal platform to gain insights and generate business leads," Gruettke says.
Expanding horizons
With a 26-year history, the flagship show of the IBTM Global Events Portfolio, EIBTM, is set to be the largest and most international yet. Organisers Reed Travel Exhibitions are bringing some of the world's most senior buyers to the host city of Barcelona, and have recently confirmed 90 new Hosted Buyer Group Coordinators – up 20 per cent on last year.
As part of business development, EIBTM's team has expanded its pool of group coordinators in an effort to recruit quality buyers and seek out new faces. Joanna Warr, hosted buyer manager for Reed Travel Exhibitions, EIBTM comments: "We have seen a huge increase in new groups coming on board from Europe, with 57 signed up to date. Our team has also recruited an additional 33 long haul groups for the show this year."
Many of the groups attending the show are extensions on groups from previous years, who are reaching out to new markets. These include buyers from India, Brazil, the Middle East and new groups participating from the UK, USA and France.
"The increase in buyer interest we have witnessed this year is a huge testament to the success of the programme and the value it provides for each of the buyers attending," says Warr.