ITB CHINA made a grand live return this week to conclude its 2023 edition with 10,000 attendees, more than 700 senior buyers, and 360 exhibitors representing nearly 60 countries and regions.
Organisers Messe Berlin say the figures indicate a resurgence in China's outbound travel and solidifies ITB China's position as the premier B2B travel trade show in China, following the global pandemic.
"After three years, the world comes together again at ITB China, and the timing for the event in September couldn't be more opportune as the Chinese travel industry stands at the brink of a positive future," said David Axiotis, general manager of Messe Berlin (Shanghai).
"This year's event buzzed with excitement over the return of in-person meetings. Engaging in numerous conversations and business meetings to re-establish connections, everyone could feel the optimism about the months ahead."
The official kick-off, marked by the Grand Opening Dinner and the CEO Seminar, set the tone for this year's event The CEO Seminar, one of many highlights of ITB China this year, saw nearly 20 senior executives from China's leading outbound and inbound travel companies delve into a discussion on "The Impact of Global Relations and the Economic Situation on China's Inbound and Outbound Tourism Market".
"Meeting with numerous top executives from the industry after three years brings me immense joy and holds great significance," said He Yong, president of HCG International Travel Group.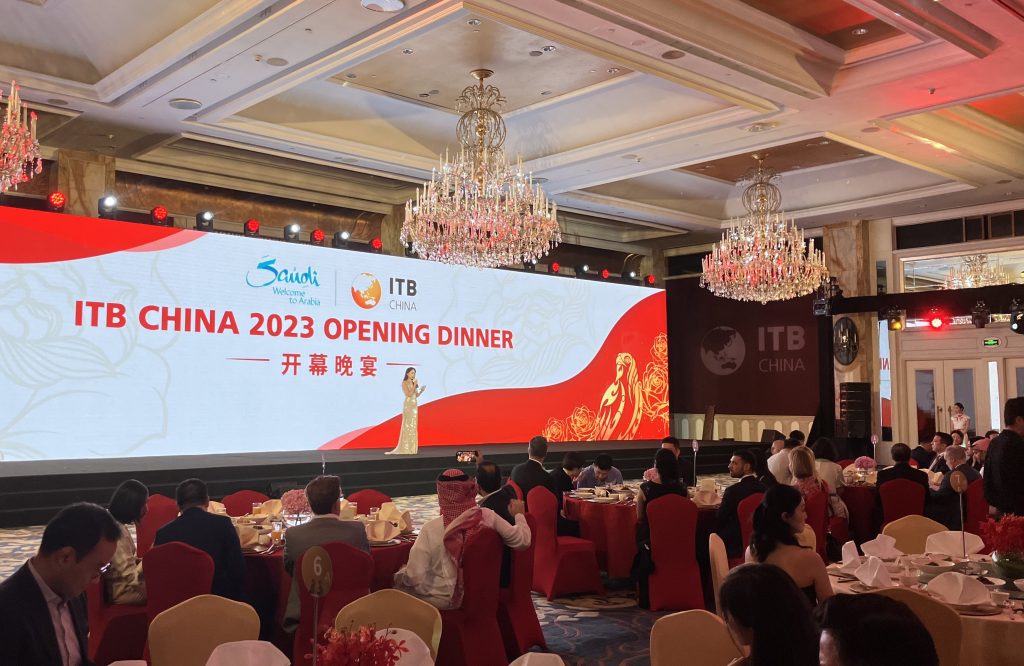 "We engaged in a fruitful exchange of ideas on the opportunities and challenges in the recovery process of China's outbound and inbound tourism market. Platforms like ITB China play a pivotal role in swiftly connecting domestic tourism companies with international partners, broadening their business horizons"
The Grand Opening Dinner, was attended by 450 guests with David Ruetz, Senior Vice President at Messe Berlin, ShiJun Liu, Secretary General of World Tourism Alliance (WTA); and Alhasan Aldabbagh, President – APAC Markets, Saudi Tourism Authority, addressing the audience Pudong Shangri-la, Shanghai.
More… Saudi Arabia partners with ITB China
Some 360 Exhibitors and 700 high profile buyers engaged in a series of productive 17,358 meetings, fostering partnerships and collaborations. Wizani Rosmin, Director of Tourism Malaysia Shanghai, said: "I am quite impressed. As you know, for the tourism industry, the most important thing is we need to meet each other, because it is about hospitality. This is a good beginning for the buyer and our seller to come together and create new business opportunities."
Tyrone Tang, CEO of Jin Jiang International Hotel Management, said: "The enthusiasm from both visitors and exhibitors has been incredibly high this year, and we had the opportunity to meet many new and old friends. The ITB China matchmaking system was particularly effective in connecting us with targeted buyers, making the show an excellent platform."
– The next ITB China is scheduled for May 27-29, 2024 at the Shanghai World Expo Exhibition and Convention Centre