Give your corporate bonding time a different twist by organising a relaxing spa party for your partners and employees. Mix takes a look at six properties whose spa facilities can cater to a group booking.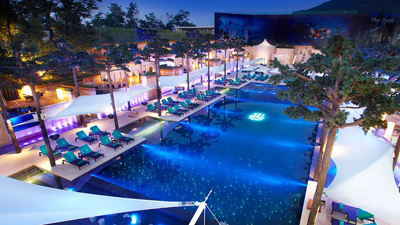 Banyan Tree Club & Spa Seoul
How many treatment rooms: 11 treatment rooms (five single, four double and two spa suites).
What can groups do there? Spa experiences are tailor made for each group to cater to specific requirements. The hotel recommends groups to begin with drinks at one of its F&B outlets – perhaps a group afternoon tea, or a reception in one of the function rooms before heading to the spa for wellness therapy.
Group size: 11 guests at the same time, with one person per room. If a group is flexible with the arrangement, two delegates can share one couple room. The facility can hold a maximum of 13 people simultaneously.

Chi The Spa at Shangri-La, Bangkok
How many treatment rooms: 12 rooms.
What can groups do there? A spa programme is usually customised based on the requirements or celebration theme of the group. Besides the scheduled spa treatment, the team at CHI can incorporate into the programme a yoga session, an afternoon to learn Thai massage techniques or a Zumba class at the hotel's Health Club.
For longer treatment packages of two-and-a-half hours or longer, CHI can offer extra treatment time (a complimentary 20-min Bergamot & Rosemary Scalp Treatment) or facility time (a 15-minute complimentary Aromatic Bath Therapy or an Herbal Steam). Refreshments can also be arranged in conjunction with the "sparty" booking.
Group size: At any one time, CHI can hold groups of between three and 18 guests. In the past, it had hosted more than 100 people during the course of one day. If treatments are limited to one hour per guest, CHI can serve 120 people from 10am to 10pm.
shangri-la.com/bangkok/shangrila/health-leisure/chi-the-spa
Shuan Spa Hong Kong
Cordis Hong Kong (formerly Langham Place, Mongkok)
How many treatment rooms: Nine in total.
What can groups do there? Known for incorporating influences of Traditional Chinese Medicine (TCM) in its spa treatments, the facility recently launched a group treatment room called "Element" for four people. The room features a private changing room and an inter-connecting relaxation lounge that overlooks Hong Kong and Kowloon, where guests can enjoy a private party with made-to-order nutritious nibbles, cleansing teas and champagne on ice upon request.
The Chuan Spa team can tailor make a preferred retreat/venue set up suited to a group's choice. For example, they can run a workshop-style class for business events groups who would like to learn more about basic massage or TCM. They can also provide different kinds of short treatments as well as stretching exercise tips to corporate groups during meeting breaks.
Group size: Up to four people at the Element Room, while another room called Spirit can hold two people.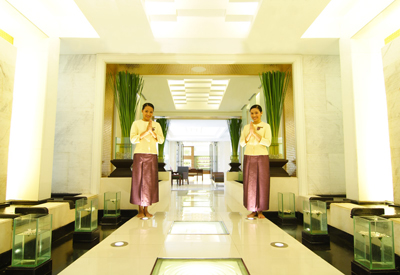 Devarana Spa, Dusit Thani Manila Hotel
How many treatment rooms: six (two single and four couple's rooms).
What can groups do there? Groups can hire the entire facility for their exclusive use. They can book a Devarana signature package, which can last for more than two hours; or they can opt for a treatment in the a la carte menu – either a body wrap, a body scrub, a massage or a facial. Alternatively, they can choose one of the pampering programmes that can clock from two to five hours.
Group size: Maximum of 11 guests at the same time with specified treatments.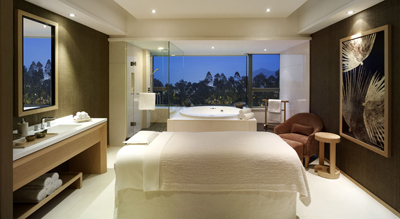 Melo Spa, Hyatt Regency, Hong Kong, Sha Tin
How many treatment rooms: 10 (seven single, two double and one group relaxation room called "Melo Moments").
What can groups do there? Melo Moments can host a spa party for up to 12 people, who can have choose from a range of treatments including a head & neck massage, foot reflexology, manicure, pedicure or hand/foot treatment, to name a few. Amid all the pampering, they can partake from a selection of Melo Spa's delicacies such as the mini Sha Tin Apple Pie, vegetarian wraps, mixed berries with Sha Tin honey and spinach & ricotta quiche among others. While this is going on, some delegates in the group may opt for an individual spa treatment in a separate room.
If time is limited, Melo Spa can arrange for its therapists to go to the meeting venue during breaks, so that delegates can at least enjoy 10 minutes of relaxation before they resume with the conference session. This can be done inside the meeting venue itself, or at our Hospitality Room which is located next to the hotel's Regency Ballroom.
Group size: Maximum 12 persons at Melo Moments, while the hotel's Hospitality Room and meeting venue can accommodate two to three persons at a time for 10 minutes during meeting breaks.
Mission Hills Spa, Mission Hills Resort Haikou
How many treatment rooms: 91 units (61 units at the Spa Main Building and 29 units at the Spa Mansions and Spa Villas).
What can groups do there? The resort's spa facility covers a total area of 22,000 sqm, which includes its own hot springs. There are over 40 treatments on offer from facial, body wrap and scrub, body and foot massage and hair and nail treatment, to name a few. Highly recommended is the two-and-a-half hour Wellness Spa Journey, where each guest starts the programme with a Chinese Health Consultation so that a personalised treatment can be designed for him or her. There are also several signature packages on the menu, such as the Energy Escape Detox that runs for three hours.
Group size: 10 persons and above.