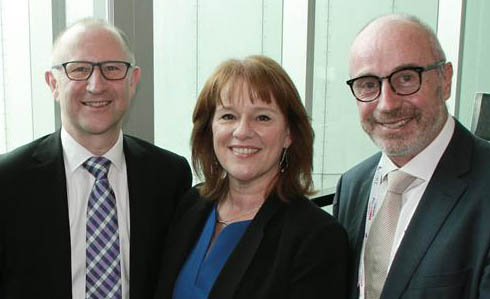 TOURISM board and multinational hotel groups that have given AIME the swerve in recent years will be back, according to both the outgoing and the new organisers of the annual trade show.
After 20 years of organising the event, Reed Travel Exhibitions bade farewell to the Asia-Pacific Incentive & Meetings Expo when the 2018 edition came to a close in Melbourne on February 21.
Talk2 Media and Events, led by former Diversified Exhibitions director Matt Pearce, now takes up the reins with a promise to boost the number of hosted buyers, revamp the style and variety of booths, while re-engaging with the business tourism and events sectors.
Pearce and Graeme Barnett, senior exhibitions director with Reed Travel Exhibitions, both expressed confidence that the likes of tourism boards from Singapore, Hong Kong, Macau, Taiwan and Thailand would return as exhibitors along with major hotel groups.
Karen Bolinger, chief executive of Melbourne Convention Bureau, told MIX that AIME would stand among the "grand slam" of trade shows for the business events industry alongside the IMEX in Las Vegas and Frankfurt, and ibtm World, in Barcelona.
"The intention is to grow it more with really good qualified buyers, particularly international," said Bolinger, hinting that Reed's outlook on AIME would have differed from Melbourne Convention Bureau, which owns the show.
"As the industry has grown in this part of the world, the proposition is a bit different, and I think the way I always describe AIME is that the industry very much feels like they own a share of the show – which is absolutely fantastic – and as a result of that it's probably not quite as commercial as the other shows out there.
"So therefore Reed is a commercial operator, and what they might've been looking for is very different."
Talk2 ME's Matt Pearce said research and discussions with key industry players are continuing, but noted that that wooing major exhibitors that have shied away from the show in recent years was a challenge as opposed to a problem.
"I respect all of them for having good measurable return on investment criteria and if they're not getting that why wouldn't they walk away? They're not charities," Pearce said during AIME.
"The challenge for us is to get them to believe in what we're doing and come back and trial it. Now that's where the challenge is – so we will go and talk to all of them."
Melbourne centre's expansion gathers pace
Pearce added that tourism boards from Hong Kong, Singapore and elsewhere – alongside big names such as Marriott International and Hilton – have also dropped away from other shows.
"I've had brief discussions as I know some of them and I've done business in those areas. They would like to be here [at AIME], but only if it works. So that's the axis back on us: to make it work. But whether we can get them here next year, or whether they would play a wait-and-see game, that's a different matter."
Reed Travel Exhibitions' Graeme Barnett said he felt "100 per cent" confident that  big players would return to AIME while Reed consolidated and sought further opportunities for its ibtm portfolio globally.
Asked why he thought AIME experienced a drop in the presence of regional exhibitors despite continuous tourism board marketing campaigns, Barnett pointed to competition from digital and more business event shows emerging.
"The digital channels are eroding in some cases the face-to-face channel and as event organisers we've got to be smarter in finding different ways to attract the meeting planners community," he said.
AIME hosted buyers going to gaol
"Of course, the destination pavilions' exhibitions space is driven by the supply chain and we've got to be a bit smarter in marketing directly to the supply chain so there is demand from the government, the tourism boards, and those DMOs.
"There are so many more events in the calendar now – and probably more in this MICE sector than many other industry sectors that we're in. We operate in something like 50 market sectors around the world and you could argue that this is possibly the most competitive out off all 50 because there are so many events.
"You look at the global industry calendar: there are local, regional, national meetings and events – many now with hosted-buyer programmes, so the demand on time for the hosted buyers is becoming even more competitive."
Main picture, from left: Graeme Barnett, senior director, Reed Travel Exhibitions; Karen Bolinger, chief executive, Melbourne Convention Bureau, and Matt Pearce, CEO, Talk2 Media and Events