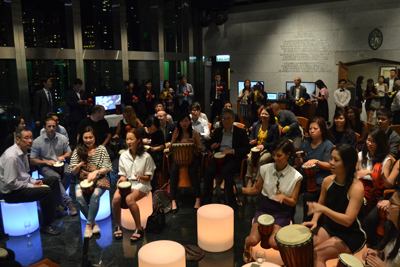 Macau-based smallWORLD Experience and partners Human Rhythms drummed up business in neighbouring Hong Kong by holding a showcase for the events industry.
The event at Club Lusitano, in Central, on September 10, in front of more than 50 event professionals marked continued expansion into Hong Kong by smallWORLD.
The evening featured a live demonstration of the "corporate drumming" teambuilding workshops created by Human Rhythms and produced in Hong Kong and Macau by smallWORLD Experience. Two other leading products from smallWORLD were also on show: "The Wine & Gourmet Casino" and the "iDiscover Hong Kong".
"Expanding to Hong Kong was a natural step," says Bruno Simões, executive director of smallWORLD Experience. "For several years now we have been working in Macau, and the Hong Kong market invited us to bring our programmes to the territory.
"This past year has been very successful and this demonstration was a request from many clients that wanted to see what we do live." says Simões.
smallWORLD Experience represents Human Rhythms for the Corporate Drumming team building product in Hong Kong and Macau.
"This is powerful and unique teambuilding" says Frankie Grojnowski, director of Human Rhythms, a company which has a presence in more than 11 regions and countries. "We have trained facilitators in Macau and Hong Kong and they are able to host sessions for groups of any size."
This event also marked the launch of the promotional video for one of smallWORLD's most successful activities – Wine & Gourmet Casino. This involves a cocktail party where guests are invited to participate in a fun casino where they bet on food and drinks.
The iDiscover Hong Kong is an "amazing-race-type" activity in which participants use iPads explore a city by completing challenges in form of quizzes, games, videos and more. This software can be tailored made to any client and location and can integrate the company or conference message into the game.