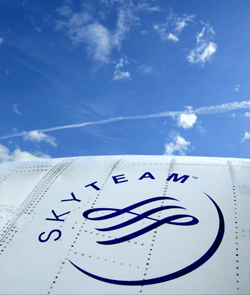 The benefits and financial savings offered by skyteam.com/globalmeetings can now be used by groups as small as 50. As part of the service, at least one reward ticket will now be issued for every 50 tickets booked. The global air alliance first launched the online service earlier this year, offering event planners a host of benefits for using the system. The alliance says giving smaller groups access is a response to industry demand.
Smaller groups can now access a range of services including a global meeting support desk, which provides live one-to-one telephone support to event organisers. Travel agents can also register on the site, allowing event planners to use their preferred agency to handle all ticketing. The website will also track the number of delegates using the service to book flight tickets to alert organisers when they've reached the threshold for rewards.
Skyteam is comprised of 19 member airlines from across the world, including Delta, Korean Air, Air France and China Eastern. The group also reports that it is currently the number one air alliance in Greater China with hubs in Beijing, Shanghai and Guangzhou.
Mauro Oretti, Skyteam's vice president sales and marketing, said: "We're capitalising on the positive trend in the meetings industry by removing the complexity of event travel management to deliver a simplified solution. In addition, our leading position in Greater China – a fast-growing MICE market, combined with our extensive network of more than 1,020 destinations, means Skyteam can fly attendees to all the world's meetings hotspots on many of the world's leading airlines."
For more information, visit: skyteam.com/globalmeetings