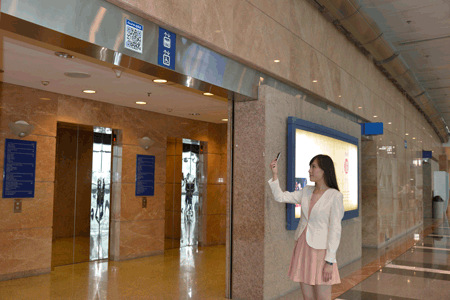 As part of its 25th anniversary celebrations, the Hong Kong Convention and Exhibition Centre (HKCEC) has launched an enhanced mobile app and Facebook campaign. The snappily titled promotion, Unforgettable-Collective Memories at HKCEC is intended to become a crowd-sourced photo album documenting stories from events taking place at the HKCEC over it's 25 year history.
Those with images taken during events at the HKCEC are invited to submit pictures via the official facebook fan page. As an added incentive, the best pictures will receive café coupons and an overall winner will scoop a dinner buffet for 25 people.
Alongside the social media activity, the HKCEC also launched an enhanced version of its mobile app, available on android and apple platforms. A brand new 'way finding' function has been added to the tool and visitors can use new QR codes at prominent locations to easily navigate their way around the building.
There is also a new feature highlighting events taking place each day, which also synchs with interactive maps of the venue.
Ms Monica Lee-Müller, managing director of HKCEC's management company HML, said: "The upgraded version of the mobile app demonstrates HML's commitment to continuously enhancing our customer services, and caters to the increasing popularity of smartphones in Hong Kong and worldwide. At HML, we hope to celebrate the milestones of the HKCEC with the public and friends from around the world. Facebook is an effective channel."
Visit the HKCEC Facebook page at: facebook.com/HKCECofficial
For more info: hkcec.com
Graeme Park