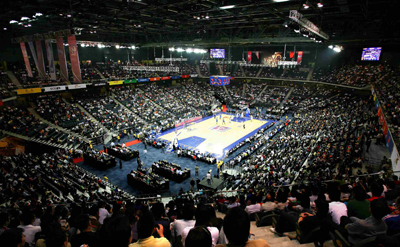 Efforts to encourage mega-venues in Macau to diversify into other forms of leisure and entertainment besides gaming have been given a boost with the signing of a deal between the Venetian Macao's owners and a Chinese property company to co-develop sporting events.
Event specialists have broadly welcomed the move as a means of providing more choices to business event and incentive groups while strengthening the city authority's bid to show there is more to Macau than casinos.
Lander Real Estate, a fast-growing company listed on the Shenzhen stock exchange, signed the co-operation framework agreement with Sands Cotai Strip Macao at a ceremony in Hangzhou to explore opportunities in the sports market in China and overseas. The deal will also involve VIP groups being brought to Macau for major sporting events such as big-name boxing bouts and enjoying hospitality offerings along the Cotai Strip.
The Venetian Macao's Cotai Arena, which is owned by Sands China, has been the venue for professional boxing promotions that have been televised worldwide featuring stars such as Manny Pacquiao, of the Philippines, and China's Olympic gold-medallist Zou Shiming. International tennis, UFC mixed martial arts and basketball have also been held at the 15,000-seat arena.
Choices
The deal comes at a time when venue operators in Macau are seeing gaming revenue decline sharply following the Chinese government's crackdown on corruption and lavish spending by officials. Venues are also under pressure to provide more family and leisure orientated tourism products with new properties seeing fewer gaming tables.
Dave Horton, global chief marketing officer for Las Vegas Sands and Sands China, says sports events are rising in popularity in China and represent one way of widening the entertainment choices for visitors to Macau.
"This strategic partnership will see our companies co-developing major sports offerings together, especially boxing events – a sport that continues to become increasingly popular in China," Asia Gaming Brief quoted Horton as saying.
An announcement filed by Lander Real Estate with the Shenzhen Stock Exchange states: "The company will actively organise high-quality clients from China to watch co-organised sports events, and to actively promote related commercial activities of the Venetian Macao.
"Both parties would further deepen co-operation to co-organise major sports events of football, basketball, boxing, golf and tennis and the commercial operation in the developed regions of China."
Grand Prix
Event planners say they hope the deal will take sports events in Macau beyond the annual staples of motor-racing and golf.
"This is what Macau desperately needs – more attractions and things to do. Attractions and shows have a huge potential to grow in Macau," says Bruno Simões, executive director of smallworld Experience, an events management company headquartered in the enclave.
"The Venetian and the Sands group are doing more for Macau than any other casino operator with regular shows at the 15,000-seat arena and the Venetian theatre, the only exhibition hall, and regular events and festivals," Simões says.
"This is a very exciting development and thankfully provides destination focus not largely hinged on the gaming floors and the tired installation shows," says Darren Kerr, a founding partner at Factor168 Creative Event Company.
"We'll be intrigued to see which sporting events they are looking at developing, hosting or repurposing. The Venetian appears to have mixed success, the Volleyball Grand Prix struggles for profile and the Macau Grand Prix and Macau Open golf could never in their current form be accused of being a universal in-person sporting event offer. But the deal is a positive and encouraging development," Kerr adds.
Hangzhou, where the deal was signed, is significant as it is one of the cities in the rapidly developing Yangtze River Delta Economic Zone. The Pearl River Delta is also seen as having huge economic potential as a sea and road bridge linking Hong Kong with Macau and Zhuhai takes shape.