PICO is teaming up with an international brand-event agency to work on opportunities arising from the approach of the Tokyo 2020 Olympics.
TBA, a subsidiary of the Hong Kong-listed Pico Group, has formed a strategic alliance with Empire Entertainment, which is based in Tokyo and New York, to share resources and work with companies seeking to activate brand strategies with an emphasis on the Summer Olympics.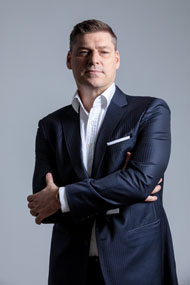 Pico said in a statement that the alliance would take TBA's sports mega-event activation experience, logistics abilities, the group's resources and combine them with Empire's expertise in live and broadcast events, experience design, creative-driven activations, talent management, and event technology.
Gregory Crandall (right), director of brand Engagement, Pico+ and TBA Hong Kong said: "Since 2000, at eight Olympic Games, Pico has provided infrastructure, sponsorship and hospitality, torch-relay logistics and other event management services. Working closely with Empire will allow us to deliver optimal services for both Japanese clients and clients seeking to activate in Japan through Empire's deep understanding of Japanese culture, intimate local knowledge, and access to locations and resources."
Ted Miller, president and CEO, Empire Entertainment Japan K.K. said: "Tokyo has already eclipsed all previous Olympic Games in terms of sponsor support, with reports of almost US$3 billion committed and more partners expected.
"The people, expertise and resources of the Empire-TBA alliance position us to support Olympic sponsors, from worldwide partners to local official Supporters, helping them to make the most of their investments during the Olympic Games and beyond as they ride the wave of interest in the Games with engaging and memorable brand experiences."
Pico group added that from early in the bid process, the Tokyo Organising Committee of the Olympic and Paralympic Games (TOCOG) stated that their aim was to use the Tokyo 2020 Olympic Games as a showcase for Japanese technology, with many sponsors investing in innovation in the lead up to 2020.
It said the TBA-Empire alliance was aimed at helping Olympic-related sponsors and corporations through hospitality- and technology-based services, which would include recognition technologies and data intelligence.
These services would deliver "customised content experiences and post-games engagement".