DIGITAL attendees of PCMA's Convening Asia Pacific: The Global Recovery Forum will have the chance to partake in six interactive deep dive sessions with key industry leaders via the Conversations with the Experts sessions next Tuesday, November 10.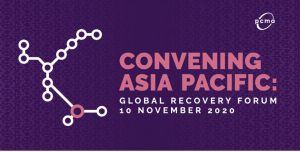 The conversations are designed to provide practical and key insights into managing and innovating business events in the Covid era.
Planners, event organisers, marketers, technology specialists and creators from some of the leading organisations are among the speakers.
Topics and speakers include:
Customer Deep Dive: Incentive Travel and Events with Bert Li, associate director of event production, Amway China
Customer Deep Dive: Corporate Meetings and Events with Deborah Caldwell, Asia Pacific head of event marketing, Bank of America
Customer Deep Dive: Association Meetings and Events with Paula Rowntree, head of events and experience, The Royal Australian College of General Practitioners and Kirsty Grimwade, senior manager, events, The Australasian Institute of Mining and Metallurgy
China Focus: Are We Back in Business? Frankie Gao, managing director, China, MCI Group and Stephen Zhang, president and chief distribution officer, Manulife Sinochem
Engaging Your Audience with Digital Events: Up Close and Personal with Sourabh Kothari, co-founder and CEO, Mindcurrent and Jennifer Kingen Kush, founder and strategist, Kingen Kush Solutions
Digital attendees will nominate a topic before the event and interact live with the presenters in these 25 minute breakout sessions.
"We want to make sure our digital attendees get a lot of value from the content and what better way than by giving them a chance to engage with the experts and their peers around the region in a personal way," Karen Bolinger, managing director of PCMA Asia Pacific, said.
PCMA reveals speakers for new Asia Pacific conference
"Through our APAC research, surveys and community chats with planners, what we're hearing is that you want to ask your peers and customers what they are doing, how they've made decisions and what the next 12-months looks like.
"Now is your opportunity to ask them directly, as well as share some best practices and tips on rebuilding the business events sector in APAC," Bolinger said.
Translations
PCMA has engaged Interprefy to deliver live and simultaneous translations of the presentations from English into Japanese, Korean and Putonghua throughout the event.
Convening Asia Pacific: The Global Recovery Forum will be available digitally, on demand and face-to-face at ICC Sydney November 10, at US$99. For more information visit Convening Asia Pacific.
Main picture: Opening ceremony at the 2018 PCMA Asia Pacific conference in Bangkok