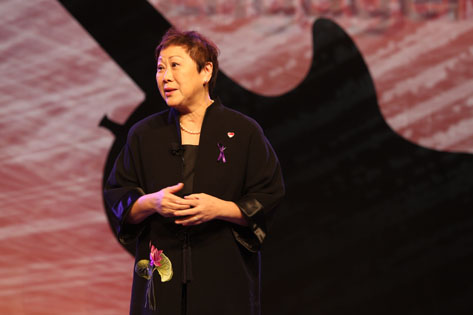 Singapore MICE industry stalwart Janet Tan-Collis has been honoured by the Professional Convention Management Association at its Convening Leaders conference in Nashville.
Tan-Collis, the president of SACEOS (Singapore Association of Convention and Exhibition Organiser and Suppliers), received the PCMA's 2017 Chairman's Award.
The chief executive of East West Planners Singapore is in Nashville, Tennessee, as part of the Asia delegation to Convening Leaders, the highlight of the PCMA's calendar, where 4,500 conference planners and industry suppliers are gathered.
Presented by Mary Pat Heftman, the 2017 chair of the PCMA board of directors, the award recognises individuals or organisations for their unique achievements and contributions to the business events industry over the previous year.
Tan-Collis was singled out for her commitment to improve the industry and her involvement in driving education opportunities for emerging event professionals in the Asia Pacific region.
More: Meet Chloe Lai, PCMA's rising star in Asia
"The success of the Singapore MICE Forum and the [Singapore MICE] Challenge is testament to the relationship between SACEOS and PCMA, uniting for the same purpose of investing into education and the future of our industry," Heftman said.
"Janet's longstanding experience, her mentorship and advocacy of industry education and professional development, make her the perfect honouree for this year's award."
Tan-Collis was praised for inspiring and mentoring the next generation of business event professionals along with her initiative, alongside her executive committee, in creating and delivering the Singapore MICE Challenge, which saw its third edition in July 2017.
More: Sheriff Karamat on PCMA's rise in Asia Pacific
At the Singapore MICE Challenge, taking place during the Singapore MICE Forum, teams of students across Singapore majoring in business and events had to produce a realistic and competitive event proposal. In return, they had the chance to win a fully sponsored trip to this year's PCMA Convening Leaders event in Nashville.
This enabled them to network with more than 4,500 meetings industry professionals and learn from the events knowledge sessions and high-profile speakers.
For the first time this year, both the winning and the second-placed teams attended the PCMA conference and had the opportunity to present their innovative event proposals in front of an industry-led audience and key media.
Main image: Janet Tan-Collis on stage at PCMA Convenin Leaders in Nashville Photo by Jacob Slaton
More: PCMA Convening Leaders in Austin, Texas