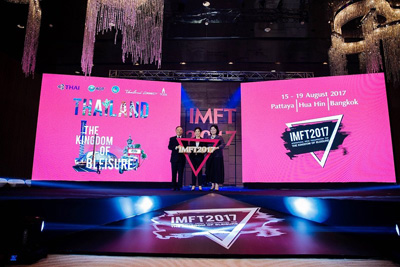 PATTAYA and Hua Hin along with the Thai capital Bangkok will form a new destination for MICE and business-leisure visitors under plans revealed by Thailand Convention and Exhibition Bureau.
The new "MICE landscape" will be underpinned by a "Thailand 4.0" policy – a government initiative that will see extensive investment in rail connections and other infrastructure to create an Eastern Economic Corridor (EEC) based in the Eastern Seaboard provinces.
The EEC project is seen by the Thai government as the next major economic zone for Asean, the Association of Southeast Asian nations, with plans to attract US$43 billion in new investment over the next five years.
Alongside the transformation of the manufacturing strip near Pattaya from the "Detroit of Asia" to a region based on development, technology and research, the nation's convention bureau has vowed to build on its new campaign of "Connect Thailand: the Kingdom of Bleisure".
As part of an economic boost to the region, a new ferry service across the Gulf of Thailand connecting Pattaya with the royal heritage city of Hua Hin will begin operations. Bangkok, Hua Hin and Pattaya will form a triangular destination aimed at conference and incentive groups.
Thailand Convention and Exhibition Bureau (TCEB) is also counting on the trend for "bleisure" – or business-leisure – in the form of corporate retreat, post-conference and CSR activities in addition to attracting more large incentive groups.
Details of the b-leisure and MICE triangle between Pattaya, Hua Hin and Bangkok were unveiled at a press conference at the Hilton Pattaya (main picture) on the second day of the TCEB International Media Familiarisation Trip (IMFT2017). Some 35 media from 16 countries and regions were flown to Thailand for the start of the August 15-19 tour in Pattaya before heading to Hua Hin and Bangkok.
Supawan Teerat, vice president of TCEB's strategic and business development, said the bureau was aligning its ideas for attracting international business event and conference groups with the Thai government's economic blueprint.
"Derived from TCEB's brand communication campaign, we present ideas for the b-leisure route and theme meetings which are all possible for MICE events in these cities," Supawan said.
"Combining the three destinations, we introduce aspects of the Thai journey through luxury, cultural, culinary, and CSR experiences to show that Thailand can transform ordinary business events into a memorable and endearing success."