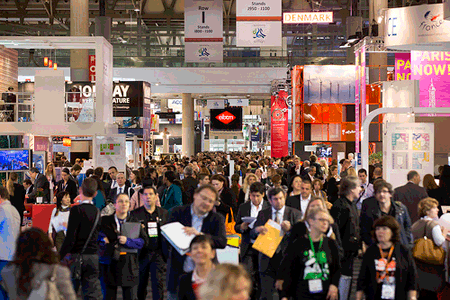 Barcelona is preparing to host over 15,000 meeting industry professionals at this year's EIBTM, taking place November 19-21. For anyone not quite sure whether or not to attend, the organisers are giving the event an extra push with their own top ten reasons to attend.
1. The best three days for your business – meet the world with over 3,100 exhibitors representing over 150 countries available to you, all under one roof!
2. Start forward planning for 2014 and discover everything you need to create your meetings and events – from international venues, hotels, and destinations to technology, business travel and events services providers.
3. Make connections that matter with over 100 networking events at EIBTM, provides the perfect opportunity to meet new contacts and strengthen existing relationships in a relaxed atmosphere.
4. Discover the Top 10 innovations impacting the meetings and events industry today and into the future at the NEW Innovation Zone.
5. Advance your career with our cutting edge EIBTM Knowledge professional education programme.
6. Be inspired at the EIBTM Forum opening conference and learn from esteemed speaker James Woudhuysen, Professor of Forecasting and Innovation who will discuss 'A New Perspective on the Meetings Industry'.
7. Consult a Genius about your event needs at the Innovation Zone and NEW Genius Zones – Event Genius Zone, Hologram Genius Zone and Sustainability Genius Zone.
8. Save up to 50 per cent on your travel and accommodation with EIBTM's exclusive travel discounts in collaboration with Pacific World, Iberia, Lufthansa, Renfe, and new this year One World!
9. WIN a luxury trip to Budapest –Pre-register online and attend EIBTM 2013 and you could be the winner!
10. Experience the beautiful and vibrant city of Barcelona, the perfect destination to combine business and pleasure.
For more info: eibtm.com
Graeme Park