Events held in ballrooms are so passé. Why not take it outside and have a garden party?
Here are some inspiring outside spaces.
Four Points by Sheraton Bangkok

Hotel rooms:
Four Points offers planners 268 guest rooms making suitable for residential events. Check out the Four Point's signature Extra Comfy Room
Meeting facilities:
There are two meeting rooms with a total area of 207-sqm, and two175-sqm meeting rooms.
The garden:
On level eight you'll find "Breeze" – the exclusive rooftop function area. This unique venue offers an abundant amount of natural light, is pillar-free and can be divided into separate sections. Importantly, it has an outdoor space which includes a private courtyard and a grassy area. The smaller garden terrace is 92-sqm, whilst the larger garden terrace is 205-sqm. The mix of indoor and outdoor spaces means that, should the rain come down – as is often the case in Bangkok – delegates will have an indoor space to shelter.
Millennium Hotel and Resorts Jakarta

Hotel rooms:
With 400 guest rooms, the Millenium is ideal for mid-sized conferences.
Meeting facilities:
There are 15 meeting rooms in total. The smallest one is in 30-sqm, holding 15 people. The largest one is the 1,030 sqm ballroom, with a capacity of up to 1,200 guests at a time.
The garden:
The sky garden can accommodate around 100 people at a time. Being in downtown Jakarta, the rooftop vibe is particularly special, providing a natural connection this bustling city.
Crowne Plaza Hong Kong Kowloon East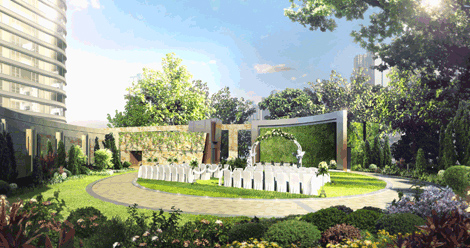 Hotel rooms:
A large property, planners have access to 359 guest rooms
Meeting facilities:
In total, the hotel offers 2,400-sqm of space for organisers to hold events. There are 11 meeting rooms, with the smallest room offering 47.2-sqm of space, while the biggest room is 1,030-sqm in area.
The garden:
Hong Kong is known for its concrete canyons, but the city can actually offer some special green spaces. Hosting events outdoors is a refreshing change for city-weary delegates. This particular venue also features a rooftop pool, meaning that the inability to resist an impromptu pool party might be no more than a few glasses of champagne away.
Valerian Ho