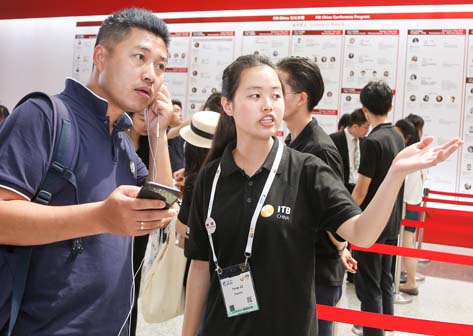 VISITORS, exhibitors and buyers who were surveyed by ITB China reported complete satisfaction with the second edition of the show in Shanghai.
Messe Berlin, the show's organsiers, said the success of ITB China was reflected in the heavy demand for floor space and a significant increase of visitors. Compared to the inaugural event in 2017 the gross exhibition space as well as the attendees rose by 50 per cent.
"With its 700 exhibiting companies from 80 countries as well as 15,000 attendees participating and China becoming the driving force for the growth of the global travel industry, ITB China is establishing itself as the must-attend event for anyone looking to establish a strong presence here," said Christian Göke, CEO of Messe Berlin
"The results are remarkable considering it is only the second show. The performance is a strong base which promises even more growth next year," he said.
Hong Kong and Shenzhen companies share ITB China Startup Award
The show's hosted-buyer progamme was extended with around 800 buyers at the event – an increase of more than 30 per cent compared to 2017.
More than 300 buyers came from companies throughout China, representing a full range of the country's largest industry players, with 73 per cent of the Chinese leisure, MICE and corporate buyers from outside Shanghai.
Organisers added that more than 15,000 prescheduled appointments maximised business opportunities for exhibitors and buyers. A new matchmaking system catering to the needs of exhibitors and buyers using desktop, mobile, APP or WeChat interfaces was launched.
Opinion: Trade shows all at sea
Lu Jun, managing director, China Travel Group Shanghai, said: "ITB China was very well organised and set high standards in terms of the quality of both exhibitors and buyers.
"The show displays set off the exhibition and conference just perfectly. As a member of the China National Travel Service, I felt honored to attend this year's show. I believe that this will surely lay a solid foundation for our future communication and cooperation with domestic and foreign counterparts, which we expect will come very soon."
Lin Yan, senior vice president, Utour Group, said: "As one of the largest travel operators in China we have gained a lot from ITB China. We expect and believe that ITB China will become the world's largest and most successful tourism exhibition.
"The reason why ITB Berlin is the largest travel show to date is that Germany was the largest source market back then, with 70 million German travellers going abroad every year given its population of 80 million," she said. "Since 2016, China has become the world's largest source country, so ITB China implies exceptional potential."
ITB China 2019 has been scheduled or May 15-17 at Shanghai World Expo Exhibition and Convention Centre.