HOTELIERS and meeting organisers are set to be among the first to benefit once a series of planned initiatives from Hong Kong Tourism Board gets underway.
A digital platform called MeetON will be launched by Hong Kong Tourism Board (HKTB) to enable hotels in the city to market their meetings and event facilities by providing business matching, online promotion and virtual face-to-face meetings among other services.
Kenneth Wong, HKTB's general manager for MICE, cruises and regional director for Europe, said the virtual business-matching service was likely to be the first of its type in Asia and would be tested with organisers in mainland China before being rolled out to Hong Kong's other short-haul markets.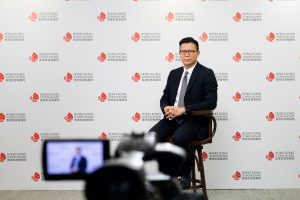 The HKTB-organised web presentation heard that officials were preparing to give the green light to other initiatives designed to revive Hong Kong as an international conference and events city.
"Our aim now is to offer what help we can… we're waiting for when the time is right and we can launch some of the programmes," Wong said, adding that Hong Kong was ideally positioned for a post-Covid recovery with world-class infrastructure and its position as the gateway to China with high-speed rail connections to mainland cities and more.
More… Tourism chiefs reveal post-Covid strategy
Hotel support measures include the minimum-room night requirement to qualify for support in bringing overseas MICE groups to Hong Kong being reduced from two nights to one.
MeetON comes as new cases of Covid-19 outbreaks have fallen in Hong Kong and tourism chiefs look to rejuvenating the city's hospitality and MICE businesses which have been left reeling by a "double hit" of social unrest followed by the coronavirus pandemic.
Hong Kong travel-trade show counts on August bounce back
More than 70 MICE events have been postponed or cancelled as a result of the downturn with 370,000 fewer business events visitors, according to HKTB figures.
Despite the difficulties, Wong said the business event organisers had much to be confident about as Hong Kong emerged from the Covid-19 crisis. The city was a "leader in public health measures", it had world-class infrastructure and the regional government had recently announced more than a HK$1 billion to boost the local MICE industry.
He said changes brought about by the pandemic would initially see smaller incentive groups return with CSR and wellness-themed itineraries offered to organisers. These would include agricultural tours around Tai O, on Lantau island, tea-pairing experiences and yoga at Central Harbour Waterfront with projects aimed at helping the local community.
More… HK government bureau responds to cash-aid flak
Short-haul incentive markets with a smaller number of Covid cases would be first targeted with the strategy reviewed before it was widened to other market segments and regions that were evaluated as safe.
Major corporate events featuring big name speakers such as Elon Musk, US economist Ben Bernanke and Apple co-founder Steve Wozniak, were also a priority as Hong Kong sought to restore its status as Trade Show Capital of Asia.
Hong Kong will also be positioned to host and sponsor events by major players in the MICE industry including the incentive travel specialists of SITE, congress organiser association ICCA and the IAPCO Council Meeting for conference specialists.
Links with UFI – The Global Association of the Exhibitions Industry – would also be strengthened with the sponsorship of a conference organised with Hong Kong Exhibition and Convention Industry Association in December and two more events including one that highlights opportunities across the Greater Bay Area.
"MICE Champions" will also be drawn from local chambers of commerce, universities, and trade and professional associations to leverage their international connections in attracting conference groups to Hong Kong.
Wong said officials believed there was also "pent-up demand" in the incentive market among organisers of large direct-sales groups.