TAIWAN The country's Bureau of Foreign Trade (BOFT) has released a new and improved version of its Meet Taiwan Card as well as its smartphone app equivalent, enabling cardholders to access information with their handheld device.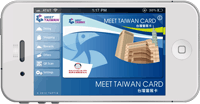 The product offers information and discounts on different services such as dining, shopping, accommodation, entertainment and transportation, to name a few. It was issued three years ago and distributed to business events participants and individual business travellers.
Last year, 12,000 cards were issued to people from over 60 countries and the list of merchants offering special deals to cardholders has doubled to 322 companies.
Now on its third year, the BOFT has made the card available via a smartphone app. The software comes with a GPS function to allow card users to easily find affiliated shops within their immediate vicinity. Furthermore, a taxi guide function is also incorporated into the software. The app also provides access to Facebook and Twitter.
Meanwhile, the newest version of the Meet Taiwan Card now includes the functions of the country's Easy Card transport smartcard, so it can be used to ride the Taipei Metro.
www.meettaiwan.taptin.com/home
Gigi Onag