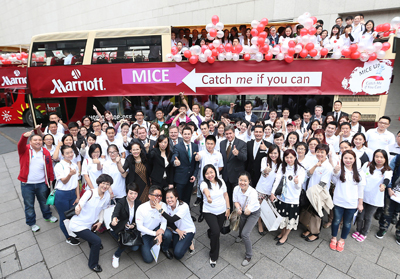 A leading international hotelier took its "Future of Meetings" concept onto the streets of Shanghai in three open-top double-decker buses as part of the group's global customer appreciation event.
Marriott hotels in the Greater Shanghai area gathered 105 meetings and event organisers along with sales leaders under the banner of "Catch Me If You Can" for a fun-filled tour around five of the 17 MICE-focused properties in the city.
The tour, in which groups were divided into three teams and used buses to visit the designated hotels, was also an opportunity for Marriott to showcase its Marriott Meetings Services Application.
The app, which Marriott is piloting in Shanghai before implementing it at properties across China, is designed to give planners instant access to hotel events staff. Requests can be made via the app as an event is taking place as well as during the pre-planning stage. Users also have access to meetings ideas, images, configurations and other planning resources via the app.
Theme
Donald J. Cleary, Marriott International's chief operations office for Asia Pacific, said the "Marriott Cluster" in Greater Shanghai chose the group's "Future of Meetings" as a theme for the city's part in the annual Global Appreciation Week.
He said the event was also crucial in bringing the "tried and tested" success of the group's Meetings Imagined concept to bear on the Asia and China markets.
"Gone are the days when it was only about chairs, tables and space," said Cleary. "This is about us looking to the customer and letting the customers design that space with concepts such as 'Ideate' for brainstorming, 'Produce' to cover networking or product promotion."
Teambuilding
Event space showcased on the tour included a Chairman's Suite at Shanghai Marriott Hotel City Centre transformed into a venue for high-end product launches or intimate cocktails; creative coffee breaks at JW Marriott Shanghai Tomorrow Square; teambuilding with views of Huangpu River and heritage buildings at Renaissance Shanghai Yu Garden; a teambuilding confectionary workshop with chefs at the new Shanghai Marriott Hotel Parkview, and cocktail and evening event space with views of the Shanghai Expo from the terrace of Shanghai Marriott Hotel Luwan.
Cleary added that Meetings Imagined was looking at the next generation of meeting planners in China to offer ways in which the Future of Meetings concept can help them create better events. "We have thousands of photos showing set-ups from actual events to help design and plan with articles and information drawn from experiences and best practice success stories.
"It's a large body of knowledge on how to produce events."