MALAYSIA Business Events Week opened in a hybrid format with a commitment to rebuilding confidence and restoring the country as a meetings and incentives hub.
About 250 delegates attended the flagship event of Malaysia Convention and Exhibition Bureau (MyCEB) at the World Trade Centre Kuala Lumpur with international delegates participating online.
Nancy Shukri, Malaysia's minister of tourism, arts and culture, spoke at the opening of the August 24-25 event and said she expected the country's business events and tourism industry to return as strong as it was before Covid-19 struck.
More… Malaysia weighs green travel zones, events recovery
"I would like to commend MyCEB and industry players for building a solid ground before the pandemic hit and I am very sure that once it is time to fully bounce back, Malaysia will be on the top list of destinations given that we have time and time again, made headlines of one of the most effective countries in handling Covid-19," she said.
"Not only we can 'Rebuild Confidence' well, but I am assured that we can maintain it."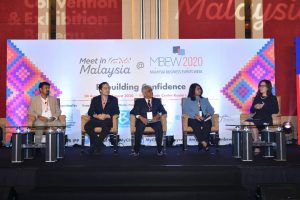 The objective of this year's Meet in Malaysia @ MBEW theme is to get people from different industries to share thoughts and debate issues on the future of business events.
MyCEB also initiated a slot for media representatives at this year's event to share experiences and challenges they faced since Movement Control Order (MCO) was introduced to contain Covid outbreaks.
Malaysia events an economic 'force to be reckoned with'
Abdul Khani Daud, MyCEB chief executive, said: "Our strategy through Meet in Malaysia @ Malaysia Business Events Week is to create impactful platform for industry players to gather and share knowledge on how to stimulate the economy.
"Business Events stakeholders must take preventive measures by complying SOPs [standard operating procedures] to build up confidence on Malaysia domestically and internationally," he said.
Also attending the opening was Mohd Zamri Zain, deputy secretary general at the tourism and culture ministry. Speaking at forums were  Noor Ahmad, representing ICCA Asia Pacific; Angeline van den Broecke, director of global business development and marketing at Kuala Lumpur Convention Centre, and Adlina Borhan, CEO and co-founder of digital marketing and tourism PR agency AB&Artho.