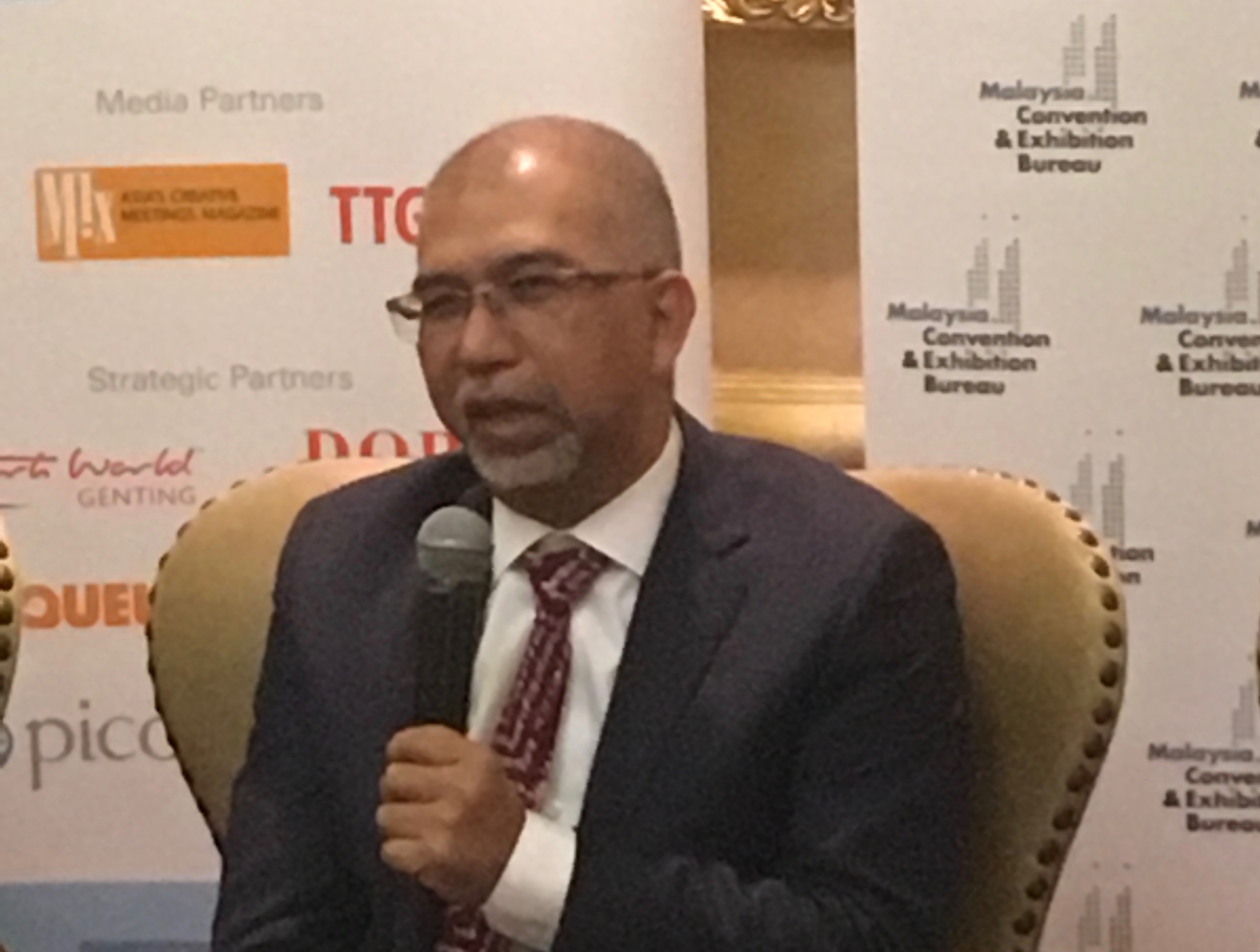 MALAYSIA is gunning for a Top 10 spot in tourism leagues with business events and conferences an integral part of the country's strategy for reaching this target.
MBEW2018, a two-day conference featuring international speakers and leaders of the business events industry Southeast Asia, was told by Malaysia's new deputy prime minister for tourism, arts and culture that MyCEB, the country's convention bureau, would continue its role under the recently elected government.
"The business events industry will remain a very important component of our country's prosperity and we believe that MyCEB will be our forefront in pushing business tourism forward," Muhammad Bakhtiar Wan Chik (above), the deputy tourism minister, said at the opening of Malaysia Business Events Week conference.
He said he was confident that MyCEB would achieve 340,000 delegate days for the 2018 calendar year with Malaysia attaining a top-10 ranking among leading destinations for visitors.
MBEW2017 seeks to quicken transformation
About 160 delegates attended the conference, which is being held at Resorts World Genting, Pahang state, amid an expanded theme park and hotel complex that is set to see the opening of a 20th Century Fox World Malaysia.
MBEW is an initiative by Malaysia Convention and Exhibition Bureau (MyCEB) to gather stakeholders from the meetings and incentive travel communities to debate issues affecting the future growth and sustainability of the business events industry.
International speakers at the event included Pádraic Gilligan, managing partner of Dublin-based destination marketing specialists, SoolNua; Tina Altieri, managing principal at Media Australasia Xchange; Effi Setiabudi, chairman of Indonesia Exhibition Companies Association and Chua Wee Phong, chairman of Sphere Exhibits.
The fourth MBEW's theme of "Our Future by Design: Embracing Change" is aimed at highlighting a robust Malaysian business events landscape with world-class offerings that is ready to prepare for sustainable growth.
More: Librarians see Malaysia turning a new leaf
The deputy minister said he took pride in the collaboration between MyCEB and the Librarians Association of Malaysia in winning the bid to host IFLA World Library and Information Congress (IFLA WLIC 2018), the world's largest gathering of librarians next week (August 24-30), as one of the increasing number of international conferences attracted to the country..
"With around 3,000 delegates from over 140 countries, IFLA WLIC 2018 is expected to generate an estimated MYR44.4 million [US$10.8 million) to the country," he said.
In 2019, the 62nd ISI World Statistic Congress, which is expected to generate an economic impact of MYR32 million, is also scheduled to held in Kuala Lumpur.