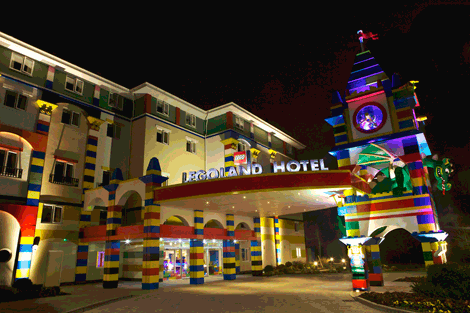 Situated just 15 minutes from London's Heathrow airport, close to the Royal Residence of Windsor Castle, and on the 150-acre Legoland Windsor Park, the Legoland hotel is keen to emphasise its round-the-year appeal.
Jens Anderson, operations director at the Legoland Windsor Resort Hotel says: "I think we are proving an unexpected prize to corporate guests. They walk into the lobby and think 'wow, this is full on' and then they come into the adjoining Lego suite which is out corporate-only space, and think, "this is Lego, but subtle, we can do business here."
The hotel has 150 bedrooms, with themes such as Pirate, Adventure or Kingdom, and there is direct access into the Park making it a sure hit with families. Nevertheless the hotel has been designed with corporate groups in mind, particularly with the international pull of the Lego brand. The banqueting and event space is suitable for up to 320 in the Creator Suite as well as three syndicate rooms – Duck, Wheel and Brick for eight to 36 people each. Corporates, such as Heinz, O2, Catlin Insurance, Kraft Foods, Microsoft, Tbays, Fiat and UK Inbound are some of the 90-plus companies which have used the backdrop of Lego for their conferences, launches, team-building sessions, associate and family away days at the hotel in its first year of operation.
All business visitors have complimentary car-parking and high speed Wi-Fi. There is also the possibility of using the terrace of the hotel overlooking the park for outdoor barbecues and informal eating, while those staying at the hotel can use the gym and swimming pool
For more info, visit: legoland.co.uk
Tom Otley