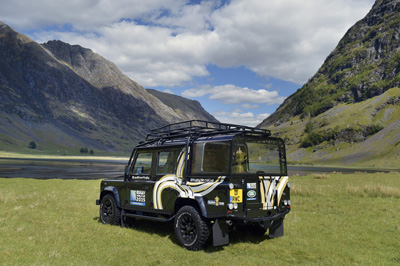 Groups from Australia, China and Japan are among 550 participants in a Rugby World Cup visit to Britain organised on behalf of Land Rover.
Land Rover is treating key stakeholders – usually vehicle dealerships and agents for the brand – to extended stays involving visits to the off-road vehicle maker's experience centres at eight locations, from Brighton on the south coast, to Scotland.
Ashfield Meetings & Events has been selected to arrange programmes for 550 guests from Land Rover's international markets, including Asia Pacific. Ashfield is also coordinating delegate registration and management for 5,000 guests who will be hosted by Land Rover at stadiums where Rugby World Cup matches are being held.
Land Rover is an official worldwide partner of the tournament, which is taking place in England until October 31.
"We are organising extended stays for groups from Japan, China and Australia," Emma Platt, marketing project manager for Ashfield Meetings & events, told MIX.
"The groups will take part in activities to get a true taste of Britain and be immersed in the brand, visiting key experience centres and factories during their programme."
Ashfield has responsibility for venue sourcing, event management logistics, activities, dinners and transport for the extended programmes. The agency has a dedicated Jaguar Land Rover Global Events Team consisting of 16 employees.
Nicola Burns, Ashfield Meetings & Events' global managing director, said: "We are really excited to be delivering Land Rover experiences at such a significant event in the worldwide sporting calendar.
"The brand alignment is evident and the team have been working incredibly hard to ensure it will be an immersive and unforgettable experience for all Land Rover stakeholders. With so many bespoke programmes taking place throughout the tournament it will be a huge undertaking for the team to coordinate the guest experiences, logistics, registration and delegate communication."