International business travel trends took centre stage at the opening of ITB Asia 2014, as the Global Business Travel Association (GBTA) announced that 40 per cent of a global US$1.18 trillion in business travel expenditure is expected to come from Asia this year.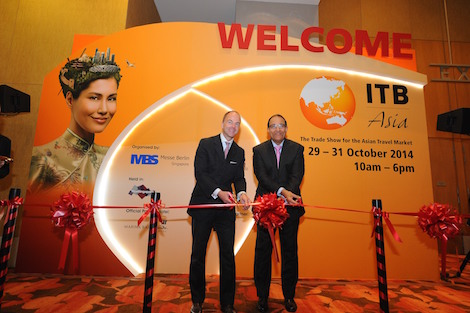 Vice President of GBTA, Mr Welf J Ebeling, delivered the projections at the show's opening address and discussed the association's research into emerging business travel markets.
"Struggling but positive is a recurring theme across the BRIC economies. China showed a 16 per cent growth in the first decade of this century while, India has surpassed Russia this year, working its way up from the 24th largest market in 2000 to tenth in 2013. GBTA expects that by 2018, Asia Pacific will have gained another five per cent in market share, while the U.S and Western Europe will lose another three per cent and two per cent, respectively."
Meetings and incentives will play an increasing role in the growth of business travel, said CEO of Messe Berlin, Christian Göke. "The MICE sector in particular is growing exceptionally, accounting for over half of the total business travel market. It is a very resilient segment that is outpacing traditional corporate travel."
GBTA will host its inaugural Business Travel Day on 30 October, offering discussion sessions and seminars on business travel. This will include an interview by Panacea Publishing Group Editor, Reggie Ho with Chief Commercial Officer of Jet Airways, Raj Sivakumar on creating greater loyalty among business travellers.
In its seventh year, ITB Asia 2014 takes place at Marina Bay Sands Convention Centre from 29 to 31 October 2014 and will host 740 exhibitors from across 76 countries. An expected 8,000 delegates will attend from 90 countries, with a 14 per cent increase in buyers on last year.