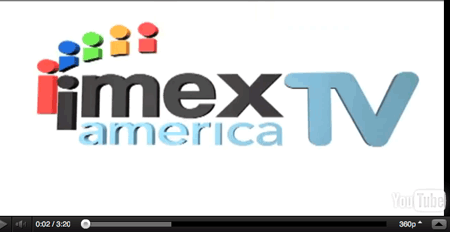 With IMEX America just days away from opening, organisers have announced that IMEX Live, a web streaming video service, will be providing an online window to the show.
For those unable to attended, but still keen to see some of the content being presented at the show, IMEX Live presents an ideal solution. Sponsored by BOB.tv, the service is preparing to go live on Monday, October 14 and can be viewed through imexamerica.com/imexlive.
The service was first trialled in May this year, during IMEX Frankfurt. This initial test recorded over 1,200 unique visitors during the event and the product has since been refined to make it easier to access.
Online content will include live social media feeds from sites such as twitter and youtube that have relevance to IMEX America. Alongside, users can expect to find interviews with speakers and industry leaders attending the show, plus a daily roundup service that will be produced by CNTV. The service is completely free of charge and can be viewed as a pop up on the IMEX America website.
After the show closes, IMEX Live will remain operational for one week, acting as an aggregator for content produced by individual attendees.
Carina Bauer, IMEX Group CEO said: "We were thrilled with the feedback we received about IMEX Live earlier this year and we've been able to make some really useful updates and changes to make it even more user-friendly. I would especially like to thank the team at BOB.tv whose support has allowed us to offer this great service once again."
IMEX Live can be viewed at: imexamerica.com/imexlive
Graeme Park