IMEX Group has donated US$250,000 to MPI Foundation's fund to help meetings industry professionals in financial distress due to the Covid downturn.
The London-headquartered organisers of Imex shows in Frankfurt and Las Vegas is the inaugural donor of the foundation's One Million to Meet campaign to raise $1 million by the end of 2020 to help the recovery meetings and events operators around the world.
The donation by IMEX, led by Ray Bloom and Carina Bauer (above), puts the funds raised by the foundation at $500,000 combined with $300,000 already distributed by to members of Meetings Professional International hit by the pandemic's economic impact.
The donation has launched MPI's One Million to Meet effort.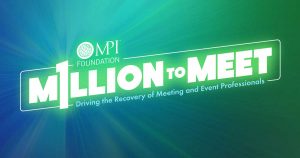 "We see this not only as a donation to MPI, but to the recovery of our global economy, because the guidance and facilitation of their passionate members will pave our way forward," said Bauer, IMEX Group's chief executive.
"No one has been spared and anything that we can do to assist those in the most need to continue their professional development and professional connections will be money well spent," she said in a statement released about the donation.
Most of the donation has been offered as a grant to the MPI Foundation, which will direct funds to distressed members. Additional funding will support MPI's 11 European chapters for initiatives to sustain education and country-specific programs that can reengage industry awareness and commence recovery.
"When I learned of this donation I was speechless," said Kevin Kirby, executive director of the MPI Foundation. "Considering the backdrop of the global pandemic, consistent negative economic news and watching our industry suffer, you can only imagine our surprise.
"Candidly, the timing is critical to our ongoing efforts to help industry members retain their memberships, access education and maintain their professional networks. It's an amazing gift," Kirby said.
Tests must replace quarantine: industry leaders
Paul Van Deventer, president and chief executive of MPI, said: "Covid-19's abruptness and ability to render any type of gathering a dangerous scenario made lockdowns and face-to-face interactions an unfathomable situation.
"To watch our community and our members struggle when these are the individuals representing a top 10 global economic driver is heart wrenching.
"Unsolicited support, like this, demonstrates how simple acts of generosity and kindness between organisations can aid one another and their mission towards recovery. Our members, our industry and our world benefit from gracious people like those at IMEX. We don't take this for granted and know that we are indeed stronger together."
Both MPI and Imex are working together on bringing the industry back through education events beginning with WEC Grapevine. MPI's signature European education event, the European Meetings and Events Conference, scheduled for February 21-23, 2021, in Brighton, England, the home of Imex Group.
MPI members facing financial distress have the ability to renew by contacting the MPI engagement team to confirm eligibility.