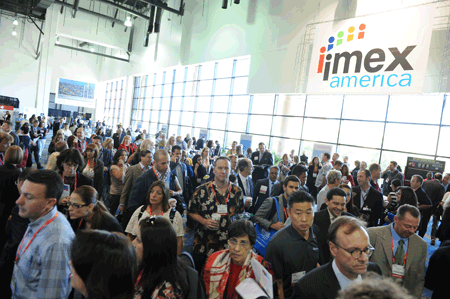 According to the latest Index of Optimism survey by IMEX America, 68 per cent of buyers and planners believe the meetings industry has a positive outlook. Around 400 industry professionals took part in the survey and the results have been announced ahead of the IMEX America exhibition, which takes place at the Sands-Expo, Las Vegas between October 15 – 17. Among the highlights of the survey results is the expected rise in the number of meetings in 2014. Around 55 per cent of respondents believed the figure would rise in 2014. In terms of budgets, 48 per cent expected a budget increase, whilst 32 per cent felt the figures would remain the same. The survey also attempted to identify the issues that are most important to buyers. With 38 per cent of the vote, "How to demonstrate ROI in a way my management understands" was voted the most significant concern. Other issues included: "the need – or instruction – to cut costs" and "the need to plan greener meetings and events."
The survey also asked planners to name their song of the summer, with Robin Thicke's "Blurred Lines" being the most popular. Also high on the list was Florida Georgia Line's "Cruise" and Daft Punk's "Get Lucky" featuring Nile Rodgers.
Digging deeper into the habits of frequent travellers, participants were asked what item they take with them whilst on business trips. Books were the overwhelming number one choice but were followed closely by a pillow from home, excercise clothing and pictures of family.
For more information, visit: imexamerica.com
Graeme Park