'CO-COLLABORATION" with conference content led by members forms part of the mission statement issued this week by ICCA in the run-up to the meetings industry association's 62nd congress in Bangkok.
Organisers say the International Convention and Congress Association has "never been in better shape" to use its influence and advocacy role to champion sustainabililty, diversity and inclusion, innovation and creating business opportunities.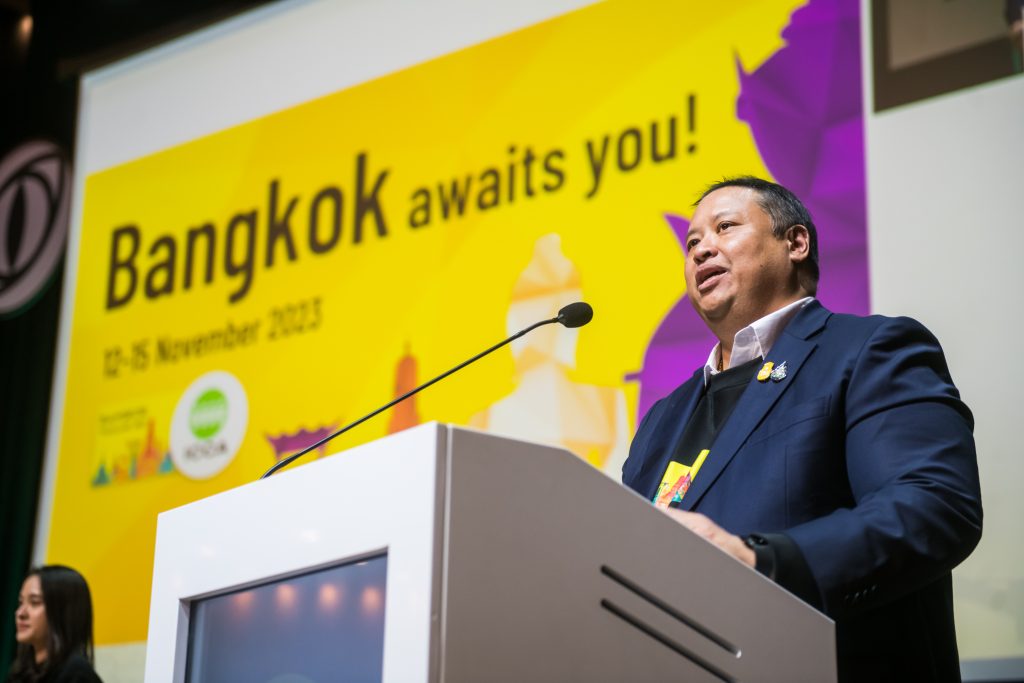 Key partners and official stakeholders joined the media launch for ICCA's 62nd Congress, promising new formats, leading international speakers, networking and more during the three-day conference at Queen Sirikit National Convention Centre, Bangkok, November 12-15.
Under the theme "It Starts With Us" and a "dynamic mix of leading international speakers and daily member-led Sharing Hubs, we are addressing the hopes, needs, and aspirations of our members", ICCA said in a statement following Monday's launch in Bangkok.
"[Members] have indicated what it is they want a conference to deliver, and we have listened. The outcomes, answers, and suggestions generated from three amazing days in Bangkok will form the basis of what we do in 2024 as we create a tangible, solution-led value proposition for our industry and beyond."
Officials attending the launch included Marta Gomes (President of the ICCA Board), Senthil Gopinath (CEO, ICCA), Ksenija Polla (Head of Education and Legacy Programmes, ICCA) and Ben Goedegebuure (Chief Global Strategy Officer, Maritz – Event Design Partner of ICCA Congress 2023) shared their vision. Chiruit Isarangkun Na Ayuthaya (President, Thailand Convention and Exhibition Bureau) and Nooch Homrossukon (Conventions Director, TCEB) offered insights from the host country.
More… ICCASkills promises new era of professionals
"It Starts With Us – because we are in the best position to know that change and progress are accelerated by international meetings and the impact that they have on world issues and communities worldwide," said Marta Gomes, President of the ICCA Board
ICCA chief executive Senthil Gopinath added: "This year's Congress is extraordinary, and it is very special because we have looked at new formats… co-creation… wanting the entire ICCA community to come together. Congress will be all about networking and engaging and we want to learn from every corner of the world."
TCEB president Chiruit Isarangkun Na Ayuthaya said:"It is an honour for Bangkok, Thailand to be the Congress destination this year. We will make sure delegates get to experience the city at its fullest potential. I would like to take this opportunity to thank ICCA for your trust in us and our beloved country. We can assure you (Congress) will be lots of fun… and will be a memorable experience."