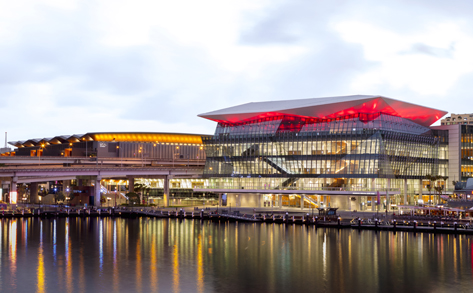 INTERNATIONAL Convention Centre Sydney's executive team plans to build on the success of hosting events for Asia-based clients with its second annual CEO Asia Roadshow series.
The ICC Sydney team returns for a nine-day roadshow with hopes of repeating the success of its 2018 tour by showcasing the advantages of meeting in Sydney to key decision makers.
Executives led by ICC Sydney CEO Geoff Donaghy are visiting Tokyo and Shanghai followed by Guangzhou and Singapore.
Regional business events agents, corporate firms, associations and media will hear about the venue's facilities, services and its latest achievements with insights from experts
More: Trade shows battle to stay in the game
The showcase will also feature sensory experiences, including sampling flavours from ICC Sydney, and being transported to sunny Sydney via a virtual reality encounter.
Donaghy says the series is the cornerstone of the venue's strategy to open up business pathways and attract more conferences, exhibitions and meetings to Australia.
"Over the course of our first tour, we received resoundingly positive feedback, with clear evidence that our objective to push Sydney to the forefront of decision makers' minds in Asia is working," says Donaghy.
"We are delighted to report a continuous increase in Asia-based clients who are bringing their events out of the region to Sydney for the very first time".
China, Singapore planners hear of ICC Sydney success story
To date, ICC Sydney has delivered more than 30 events for Asia-based clients across sectors including professional services, technology, science, health and education. Highlights include the Amway China Leadership Seminar, BabyCare Growth China, Prudential Hong Kong, Nu Skin and SAP FKOM.
Donaghy said ICC Sydney has an exemplary track record of delivering positive event outcomes and memorable experiences for clients and delegates.
"Our success can be directly attributed to our talented 1,700-person team who have staged a staggering 1,500-plus events since opening and achieved a phenomenal 97 per cent client-satisfaction rate.
"As we enter our third year of operation, we look forward to connecting with existing clients in Asia over the coming weeks while developing new relationships to reinforce global confidence in Sydney.
"The Asia Roadshow series is shaping up to be a great tour and our team is looking forward to immersing our guests in an authentic Sydney experience to demonstrate why it's a first-choice destination for business events and meetings."