GLOBAL hotel executives from Hyatt and Marriott will be the stars of a virtual fireside chat being aired across Asia Pacific this week by the Society for Incentive Travel Excellence.
SITE Australia & New Zealand is organising the event on trends and recovery strategies for the MICE industry across the region.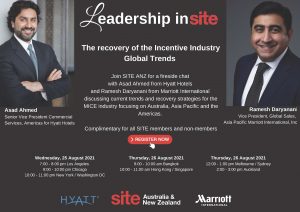 Ramesh Daryanani, Marriott International's vice president global sales for Asia Pacific, and Asad Ahmed, senior vice president commercial services, Americas for Hyatt Hotels, will be joined by  Leon Burman, SITE ANZ vice president events, who is also owner of conference and incentive company TRIBE – Travel & Event Management.
The chat takes place on Thursday, August 26, in the following time zones:
Bangkok: 9am-10am
Hong Kong/Singapore: 10am-11am
Melbourne: 12noon-1pm
Auckland: 2-3pm
Registration is free and viewers can attend by clicking here…