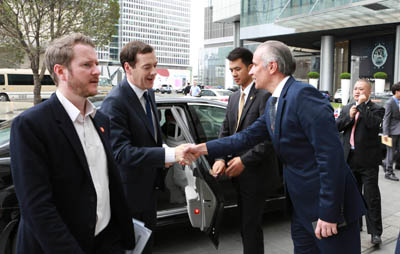 One of newest international hotels to open in the west of China has hosted a business event led by British government ministers.
Niccolo Chengdu – part of Marco Polo Hotels – welcomed UK Chancellor of the Exchequer George Osborne who is on a tour of Chinese cities with a team of finance ministers, including former Goldman Sachs economist Jim O'Neill.
The hotel, which opened in April, was the first of a new brand by Hong Kong-based Marco Polo and the "UK China Urbanisation Forum – Investing in the Northern Powerhouse" business event, is seen by the company as raising the Niccolo Chengdu's profile among conference organisers.
The British delegation held talks with officials and representatives as part of the week-long tour through China to boost commercial and political ties.
The goal was to seek potential cooperation in providing low-carbon construction projects to help cut down on emissions and other pollutants. Officials said this would combat poor air quality as a result of traffic congestion, construction and other factors.
Chengdu was the only other city besides Beijing and Shanghai to host the Urbanisation Forum. The Milken Institute recently chose Chengdu as the most successful economic city in China, over Shanghai, Beijing and Tianjin.
"Hosting the UK China Urbanisation Forum is part of our mission to bring high-level delegations and meetings to Chengdu," said Adriano Vences, general manager of the hotel.
Picture: UK Chancellor George Osborne is welcomed by Hotel Niccolo general manager Adriano Vences