Keen to stage an event for a meeting or incentive travel group in Hangzhou, but don't know who can help or how to go about it?
Hangzhou Tourism Promotion, under the Hangzhou Tourism Commission, has put those questions to rest, recently by setting up an organisation of the destination's most serious business events' players.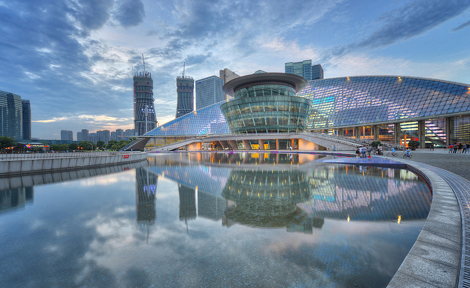 Hangzhou Grand Theater
The Hangzhou MICE Association now consists of over a hundred members representing hotels, airlines, DMCs, airlines, scenic attractions and public transport companies. According to Roger Shu, MICE manager, Hangzhou Tourism Promotion Centre, the goal is to expand Hangzhou's image as a purely leisure and honeymoon hub to one that meets the exacting demands of creative professionals.
In addition to Hangzhou's already renowned natural and historic sites – some such as West Lake, recognised by Unesco as a world treasure – a range of options, including tea leaf picking, learning about the intricacies of silk manufacturing and hiking through rolling hills, provides myriad ways to experience the beloved holiday spot of six Chinese dynasties that continues to enthrall a modern generation.
As the location of several Fortune 500 Companies and birthplace of national e-commerce giant Alibaba founder and local boy, Jack Ma, began his career here as a tour guide, while the latest Pritzker Prize awardee and first Chinese winner, Wang Shu, established an architectural school in Xiangshan in the city outskirts, Hangzhou has the makings of an ideal stage for meetings and team-building endeavours, Shu of Hangzhou Tourism Promotion is firmly convinced. "We are not Beijing and we are not Shanghai; we are Hangzhou," he emphasised.
For more on Hangzhou's events profile, visit micehangzhou.com/en
Margie T Logarta