Get Global organisers say a new approach to MICE industry tradeshows gets underway on Friday as 120 exhibitors and 300 buyers prepare to attend the inaugural event at ICC Sydney.
The one-day event will also see a large overseas buying contingent and buyer registrations will remain open right up to the start of Get Global, says Gary Bender, the show's director and founder.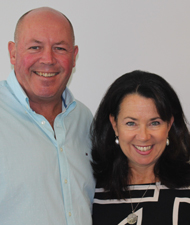 "Although our event was initially targeted at Australian buyers wishing to take their MICE business overseas, in the last few weeks have seen an influx of international buyers registering. They will be travelling to attend Get Global from countries such as India, Singapore and New Zealand," says Bender.
Liz Maxwell, managing director of ESP Ventures, New Zealand, says: "Friday, 28 July, 2017, immediately went into my schedule when Get Global, was announced. The event ticked a few boxes for me – it has been initiated by industry professionals, Donna and Gary (above), the event has excellent sponsor support and has been well received by MICE industry suppliers.
"I'm looking forward to travelling to Sydney this week to spend the day at this new MICE business platform and to meet with a great cross-section of industry suppliers."
Donna Kessler, director and founder of Get Global, adds: "Get Global's unique, business focused, one-day format allows buyers and sellers to liaise and network at their leisure. With no set appointments, and themed geographical zones, buyers and sellers can maximise their time at the event."
Exhibitors attending include Air New Zealand, Cathay Pacific, Club Med, Hong Kong Tourism, Marriott, Mövenpick, Qantas, Sofitel, Langham, Royal Caribbean, Los Angeles Tourism, Las Vegas Tourism, Jumeriah Hotels and Hyatt.
Buyers will be able to connect with key locations, properties, and tourism bodies throughout the day. Buyers wishing to attend are encouraged to register before the start of the conference.
Get Global has pledged to provide an innovative and efficient business platform for international suppliers to connect with corporate meeting planners, incentive houses, PCO's, travel companies and anyone else that has international group business from Australia.
Get Global will be held in The Gallery, at the International Convention Centre Sydney this Friday, July 28. For further details including registration visit Get Global.