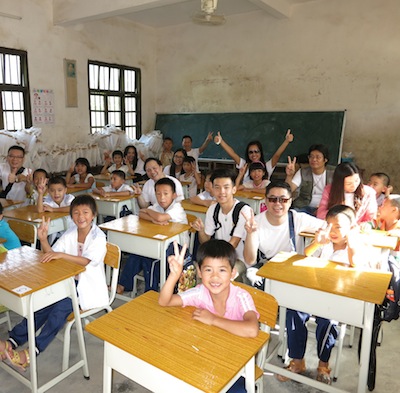 Staff from one of Macau's integrated resorts made a seven-hour bus journey to a rural school in China as part of a CSR effort after colleagues raised 100,000 yuan in donations to improve facilities for the youngsters.
The Voluteer Team from Galaxy Entertainment Group, whose properties in Macau include the Galaxy resort in Cotai, visited Mi Xi Primary School in Lianping County, Heyuan City, in northern Guangdong province, on the first day of the new school year.
The 14-strong team attended the school's flag-raising ceremony and met students and teachers who told them the importance of their visit. The volunteers distributed gifts including stationery sets and food to each student.
In a statement, the school principal said: ""With GEG's donation, we have renovated the rough and uneven ground of the playground where sporting facilities such as basketball stands are equipped to enrich the extracurricular activities of the students. Besides, the learning environment is significantly improved by installing water dispensers in each classroom and replacing new water taps. We are very grateful to the great support extended by GEG and Macau compatriots."
Ringo Sou, a volunteer from the Galaxy's table games department said: "We should learn from the students living in rural areas who are positive, optimistic and determined despite leading a hard life. The visit also reminds us of staying in gratitude as even a pencil can mean a lot to those rural students."
First organised in 2011, the GEG Volunteer Team has served more than 2,000 hours in spreading care to social service agencies and the underprivileged thanks to a corporate social responsibility commitment to helping less advantaged communities in Macau and mainland China.