MACAU City of Dreams (COD) continues to solidify its reputation of bringing cutting-edge entertainment into the territory.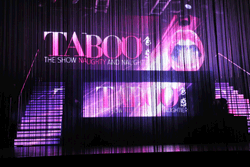 From June 28 on a limited run, Franco Dragone, creator of The House of Dancing Water (COD's blockbuster show), is unveiling Taboo – a 60-minute performance that combines sensual choreography and tantalisingly acrobatic artistry as well as an interactive theatre component.
Taboo challenges the conventions of sight and senses to their limit with a visually arresting entertainment. It seeks to bring the fabulous cabaret show experience, which has long captivated Europe to China, Hong Kong and Macau.
"It is our long-term goal to contribute in positioning Macau as a world-class centre of entertainment," said Lawrence Ho, co-chairman and chief executive of Melco Crown Entertainment. "By bringing this new exclusive performance to town, we are creating greater diversity in Macau's tourism while stimulating more visits to the city."
Dragone added: "I am proud to present my first cabaret show and I am grateful of being given the perfect innovative platform to realise my creative vision. This stunning and mesmerising show will definitely arouse the senses and sensual desire of the audience, delivering an experience you will not find elsewhere in the world."
Taboo will be staged at COD's two-level Club Cubic from Wednesday to Saturday at 10 pm.
Companies can book their exclusive tables to see the show. VIP tables cost HK$10,800 (US$1,392) and HK$16,800 (US$2,165) for six and eight people respectively. Alternatively, a VIP room can be booked with prices ranging from HK$12,800 (US$1,650) for six people to HK$24,800 (US$3,196) for a group of 12 people. A special Taboo table for eight people is available at HK$28,800 (US$3,711).
The show will run until September 15, 2012.
Gigi Onag