Revolving restaurants were all the rage just a decade ago, almost a must-have on every city's "To Build" list. While the craze has toned down, they retain much of their appeal as a good venue for corporate dinners and receptions as they almost always provide the best 360-degree views of the city. Mix takes a look at a few:
DANUBE TOWER
At the Donauturm, everything is centered around the delicate Viennese cooking. The restaurant rotates with original Viennese tidbits such as Viennese grilled chicken, boiled rump or our variety of specialty roast beefs. The charming, warm furnishing makes the establishment feel welcoming and intimate, perfect for small-scale private events.
Seating capacity: 100
Cuisine: Traditional Viennese
Website: www.donauturm.at
FERNSEHTURM BERLIN
Whether it's for two or 200 people, the Berlin TV Tower can create the desired atmosphere for almost any celebration – company anniversaries, receptions, banquets, Christmas parties and other festivities become an unforgettable experience for guests with their discrete service, creative cuisine, musical entertainment and show performances by request. Furthermore, services like individual advice for meeting planners and preparation of a proposal for the "all-round good experience" will be provided.
Seating capacity: 200
Cuisine: International and Traditional Berlin
Website: www.tv-turm.de
EPICURE ON 45
i
Located on the level 45 of the Radisson Blue Hotel in Shanghai, this stunning revolving restaurant showcases cuisine from Europe, China, Japan and India. The restaurant's chefs from Europe, Hong Kong and India will prepare culinary delights in front of the diners while the whole establishments make a 360 degree turn in two hours with uninterrupted views of the Shanghai city skyline at 208 metres.
Seating capacity: 120
Cuisine: International
Website: www.radissonblu.com
SYDNEY TOWER BUFFET
Sydney Tower Buffet is the contemporary self-select restaurant in Sydney Tower. Offering an extensive banquet-style dining experience with uninterrupted revolving views of the city, Sydney Tower Buffet provides the perfect relaxed dining environment for locals and visitors alike. With more than 40 freshly-prepared dishes on offer, guests can sample food from a range of cuisines including succulent fresh seafood, modern Australian, Italian, Chinese, Japanese and Thai.
Seating capacity: 280
Cuisine: Australian and International
Website: www.trippaswhitegroup.com
VIEW 62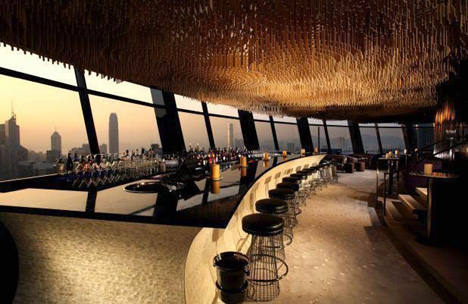 Located on the 62nd floor of Hopewell Centre in Wan Chai, the recently opened restaurant is Michelin-starred chef Paco Ronocero's first in Hong Kong. Enjoy authentic Spanish cuisine with a modern twist as you soak in the restaurant's unobstructed, 360-degree panoramic views of Hong Kong's lights and harbour, perched 700 feet (210 meters) above Hong Kong.
Seating capacity: 150
Cuisine: Spanish
Website: www.view62.com