CHINA'S Greater Bay Area is being given extra food for thought as one of the country's most successful international F&B shows heads south after conquering taste buds in Shanghai.
SIAL China SOUTH will debut in Shenzhen in October in a move that the Paris-headquartered organiser Comexposium describes as "rowing upstream in pandemic" times.
The event is expected to gather 800 exhibitors and 25,000 trade visitors while most trade events outside mainland China are cancelled or adopt an online format.
SIAL Network, which operates Comexposium's shows aimed at the hotel, catering and food sectors, says the Shenzhen event will see a strict application of health measures and close cooperation with the venue's health and safety.
A spokesman said SIAL's show in Shanghai was recognised as the best in China and Asia's largest food innovation exhibition. He said the company was confident of repeating SIAL's  success by tapping the Greater Bay Area, which has a population of around 70 million people and a GDP that is expected to double over the next five years.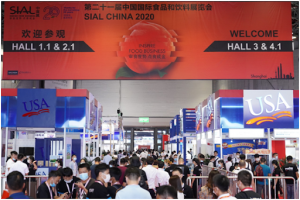 The GBA includes Hong Kong, Macau and nine municipalities on either side of the Pearl River Delta.
Comexposium says the Chinese government plans to invest 100 billion yuan in Shenzhen to build an International Food Valley with the aim of making it a tech-innovation centre for the food industry covering health, safety and new products.
"This is creating an escalating ripple effect for the whole area, promoting the Shenzhen food industry as an eye-catching global investment hotspot," the spokesman said.
More… Sheraton books into Greater Bay
Research by Mintel shows Chinese urban consumers are placing more emphasis on personal and family health with food nutrition becoming a major consideration.
With social distancing encouraging people to stay at home, takeaway or home-delivered food is seeing a 12.5 per cent growth this year with the snack-food market for 2020 set to reach a turnover of 3 trillion yuan, according to Mintel.
This has spurred Comexposium to plan SIAL events for Chengdu to serve west China and another event in central China over the next three years.
Elaine Chia, the CEO of Comexposium Asia Pacific, said: "At the height of global pandemic recovery, we look forward to leveraging our resources and expertise in the food and beverage market to better serve the needs of the China market in particular, the growing and evolving South China demographics."
"SIAL China SOUTH will take advantage of its location in China's Greater Bay Area to showcase premium food and beverage products and highlight insights on market trends," Chia said.