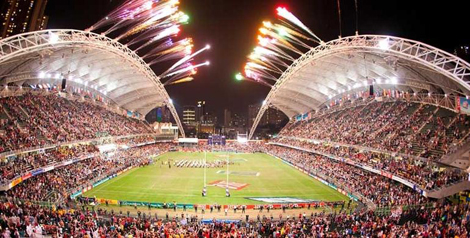 Rugby is the overall winner as event planners get ready to transform corporate suites into impressive party venues for the Hong Kong Sevens.
With major sponsors on board, and companies eager to use the event to entertain clients and staff, the demand for event planning and design has grown in line with the popularity of corporate suites.
In fitting with the party atmosphere and the fancy dress seen throughout the 40,000-seat stadium, event organisers are increasingly called upon to create fun-filled themes for the boxes. This year the Sevens takes place on March 27-29.
The annual extravaganza at the Hong Kong Stadium has grown from a humble fixture on the international seven-a-side circuit 40 years ago to a three-day event that brings thousands of visitors the city. Profits from the event go towards developing the game throughout Hong Kong.
How it works
The stadium has 50 suites, 14 of which belong to the Hong Kong Rugby Football Union, the organisation that governs the development of the sport in the territory.
Antony Phillips, the union's head of sponsorship, says certain boxes are used to host local rugby club chairpersons, members of the union's committee, government dignitaries, overseas guests such as former prime ministers and legendary players.
"The others are divided out between sponsors and HSBC, Cathay Pacific and DHL are among the HKRFU client box-holders," says Phillips.
Philips says it's generally up to the HKRFU box holders how they "fit their suites out" for the weekend. "Banks and others tend to prefer their own branding, but more of them are getting creative. Their staff get more engaged and international clients appreciate the effort," he says.
Agency insight
Adrianne Lynch, of Events Travel Asia, is one of the planners for whom the Sevens has grown into an important date as clients organise groups ranging from C-suite executives from multinationals to large incentive groups.
"Planning for corporates in the stands is about having the company's branding done well, employing engaging service staff and keeping it light," says Lynch.
"For bigger groups, I've found that a relaxed schedule, and being ready to offer tailor-made excursions and added extras on the fly, is always a success. Before and after the rugby is crucial to everyone's experience."
Lynch says high-quality transfers, innovative programmes for spouses and out-of-the box solutions are vital – even after the Sevens climaxes with the finals on Sunday, after three days of networking, staff-client engagement and… revelry.
"Taking the boys down to Deep Water Bay for dragon boating contests on the Monday after the rugby helps blow out the cobwebs."