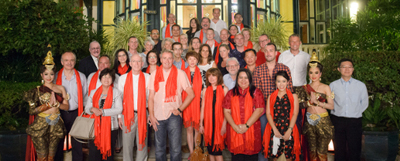 Emirates Group's travel services company, Dnata, has made its first foray into Asia by snapping up a stake in Destination Asia in a deal signed over the weekend in Bangkok.
Dubai-based Dnata, which has been acquiring tour operators in the UK, has so far declined to reveal the size of the stakeholding, but both sides are reported as saying it is not a full takeover of Destination Asia.
"Our stake in Destination Asia opens the door to business opportunities in new markets, and will strengthen Dnata's position as a global player in travel," says Iain Andrew, divisional senior vice president of Dnata's travel business.
Destination Asia is an integrated destination management company (DMC) formed in Thailand and Vietnam in 1996. It is located in 11 countries and regions including Thailand, Vietnam, China, Japan, Myanmar, Vietnam, Hong Kong, Singapore, Malaysia, Cambodia and Laos.
James Reed, Destination Asia's CEO, says the company will now be part of dnata's "family of travel businesses". These include Stella Travel Services, Gold Medal Travel Group, Travel Republic, and additional investments in Hogg Robinson Group. The stake in Destination Asia follows other high-profile moves by Dnata in travel, such as a majority stake in Imagine Cruising in 2015.
"Our diverse, multi-market segment expertise, and our international market distribution systems will enable Destination Asia to continue to deliver creative and cutting-edge travel experiences in Asia," says Reed.
"With Dnata as our partner, we are confident that the Destination Asia Group will achieve even greater success in the future."
Thailand's The Nation newspaper reported dnata as saying that there has been no change in employment contracts for Destination Asia's 700 staff. Reed is also quoted as saying that previous bids for a stake in Destination Asia were made by other interests, but were resisted because of wanting changes in the company's business model and philosophy.
See our story on Destination Asia's deal with South America's largest DMC
Main picture: Destination Asia and Dnata teams in a show of unity after signing in Bangkok