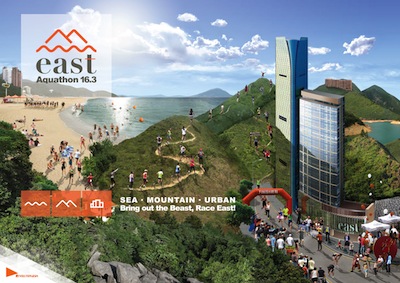 On 18th October 2014, athletes from across Hong Kong will descend on the island's Southside to take part in East Aquathon 16.3– the region's first race of its kind that combines open-water swimming, trail and road running.
Beginning with a 1.5km swim from Chung Hom Kok Beach near Stanley, the race continues out of the water with a 7.5km mountain trail through the famous 'Twin Peaks'– a pair of mountains that reach up to 900m in elevation. Once clear of the jungle terrain, a final 7.3km will take athletes through Hong Kong's eastern urban sprawl onto King's Road to finish at Tong Chong Street in Taikoo Shing.
The race is managed by sporting organisers Revolution Asia, who, since 2004, has spearheaded competitions for both adults and children in Hong Kong. The race's title partner is business hotel East Hong Kong, in Taikoo Shing, who has set themselves a target of raising HK$200,000 for the Sedan Chair Charities fund, which supports grass-roots charities in Hong Kong.
Participants can take part in the race as individuals or as part of a team, where they can split the run and swim between two people. Revolution Asia expects 500 athletes to sign up for the East Aquathon's inaugural race.
For more information, or to register for the event, visit www.revolution-asia.com/eastaquathon