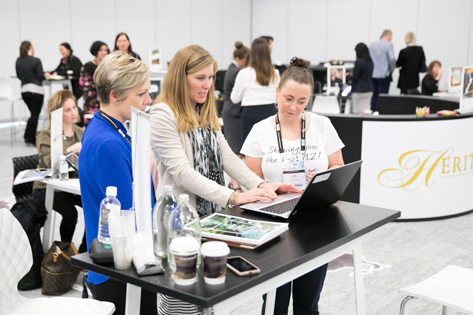 VIRGIN AUSTRALIA, South Africa Tourism, Marina Bay Sands, Alila Hotels and DMCs are among the new names that have helped buy up all the exhibition space at Get Global 2018.
In only its second year, Get Global, the one-day MICE trade event dedicated to outbound product, has announced it is sold out. The show takes place at ICC Sydney on July 20.
The day before the show opened, Get Global's co-founders also reported that a record number of buyers had signed up with a rise of 20 per cent from last year.
"We have over 140 exhibitors, an increase of 25 per cent from 2017 and we are now in the position of having to turn other exhibitors away as we have no more floor space," says Get Global co-founder, Donna Kessler.
"From Europe, the Americas, Africa, Asia, Pacific to New Zealand and beyond, Get Global is truly a global show," she added.
Get Global adds Inspiration Corner to 2018 show
"As well as our returning exhibitors who were able to achieve unsurpassed ROI from last year's event, we also have new faces such as Virgin Australia, South Africa Tourism, Marina Bay Sands, Alila Hotels and many more."
Kessler added: "We are thrilled over 300 buyers have registered with 20 per cent travelling from interstate, NZ and Asia. With no hosted-buyer programme these delegates have invested in travelling to Get Global and added the event to their annual diary as an opportunity to self-educate, network, and plan."
More interest was also shown by DMCs and agencies, said the show's co-founder, Gary Bender.
"We have been surprised at the big increase of DMCs registered – K&N Travel; J Team; Abercrombie & Kent; Kathy Clarke; Hello Scotland; Destination Asia, and Pacific World to name just a few," he said.
Gary Bender: 5 ways to up your game and attract buyers
"With a great array of hotels, bureaus and airlines, buyers will be inspired and will have the ability to talk and negotiate with decision makers on the exhibition floor."
Get Global won Exhibition of the Year at the recent Meetings Events Australia Awards and the co-founders are encouraging more buyers to take advantage of the free registration.
Buyers can enjoy the "Get Up & Go Breakfast", cocktail function, hear motivational speakers at the ICMI Inspiration Corner, as well as lunch, morning and afternoon tea, and barista coffee throughout the day.
With no pre-scheduled appointments or arrival time to commit to, buyers can be flexible throughout the day and make the most of the new and existing international products, arranged in geographical zones.