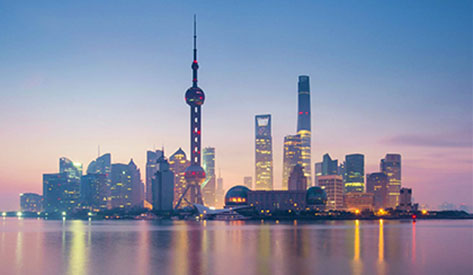 CWT Meetings & Events, a division of global travel management company Carlson Wagonlit Travel (CWT), has unveiled its predictions for the top ten Asia Pacific cities for meetings and exhibitions in 2019, with Shanghai retaining the top spot.
The rankings are based on proprietary and industry data in CWT's recently released 2019 Meetings & Events Future Trends report, which forecast that global demand for meetings and events will grow by between five and 10 per cent.
The 2019 predictions for top ten Asia Pacific meetings and events cities (2018/17 positions in brackets) are:
1.Shanghai (2018:1/2017:6)
2.Singapore (2/1)
3.Beijing (4/-)
4.Bangkok (6/3)
5.Sydney (5/2)
6.Tokyo (8/8)
7.Hong Kong (10/5)
8.Melbourne (-/7)
9.Mumbai (-/9)
10.Chengdu (-/-)
Next year's table has one new entry, China's Chengdu (10) and two cities that dropped out of the top ten in 2018, India's Mumbai (9) and Melbourne, Australia (8).
Of the three cities that dropped off next year's list, two were new entrants in 2018 – Taipei in Taiwan (7), and China's Guangzhou (9) – and one was a former high flyer, Shenzhen in China, which came third in 2018.
Across Asia Pacific, cost per attendee per day is predicted to fall 4 per cent next year to US$276. The average group size is forecasted to increase to 81 in 2019, up 3 per cent from 2018.
Asia Pacific is expected to lead the way for global growth in 2019, with airfares rising by 3.2 per cent and hotel rates set to increase by 5.1 per cent. The International Monetary Fund expects the region's GDP to rise by 5.6 per cent next year, compared with a global increase of 3.9 per cent.
China, predicted to grow 6.4 per cent in 2019, and India, predicted to grow 7.3 per cent, will again lead the way.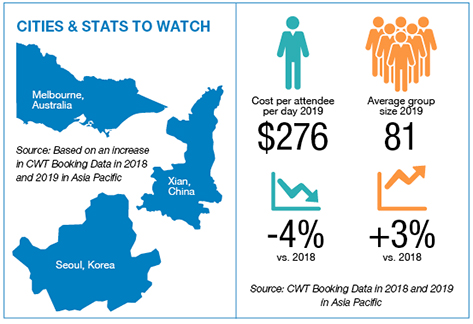 Travel is growing hugely in China across all sectors, and it is already the world's largest business travel market. Chinese tourists also spent US$258 billion on international tourism in 2017, according to the UN's World Tourism Organisation.
The more mature destinations in the region – Singapore, Hong Kong, Tokyo, and Seoul – are leading the way when it comes to hosting conferences that focus more on "thought leadership" and the "exchange of ideas" rather than pure commerce.
In growing markets, such as Vietnam, Philippines, and Cambodia, there is strong demand for exhibitions and trade shows, where there are a lot more activities centered around buying and selling.
Domestic events are also a huge part of the meetings and events market in more isolated parts of the region, including Australia and New Zealand. The Australian cities of Sydney – the region's 5th most popular destination for 2019 – and Melbourne still hold considerable attraction as venues for regional and global conferences, despite long travel times.
Another destination set to see plenty of attention next year is Japan, which will host the 2019 Rugby World Cup tournament, followed by the 2020 Olympics in Tokyo. The country's government wants to increase visitor numbers to 40 million in 2020, a 40 per cent rise on 2017, with plans for 60 million arrivals by 2020.