Conrad Hotels & Resorts has upgraded its Conrad Concierge mobile app with a new Conrad Meetings function to provide meeting and event planners the ability to research hotel capabilities across all 23 Conrad properties worldwide via smartphone or tablet.
The Conrad Meetings functionality offers a communication tool that allows meeting planners to reach event attendees, sharing everything from itinerary items to updates in real-time.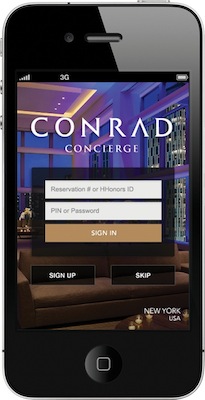 "We're committed to shortening the time between request and execution and making information more readily available, whether planners are en route to their next event or multi-tasking during a client meeting," said John T.A. Vanferslice, global head, Conrad Hotels & Resorts, Hilton Worldwide.
Conrad Concierge mobile app – which has now been downloaded by 180,000 users worldwide, can now be used to view hotel capacity charts, request proposals for group events, and receive up-to-date information about floor plans, special offers, social events, and more.
The function aims to help planners load event agendas and to communicate scheduling changes in a timely and effective manner.
Meanwhile, existing functions will remain, including the ability to allow guests to select their pillow preference, the newspaper delivered daily, or even bath products that will be ready in their room prior to arrival.
For more information, visit conradhotels.com/concierge