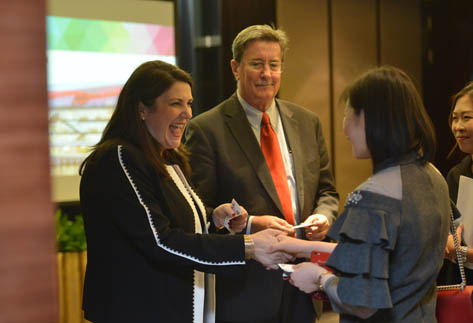 CONFERENCE and incentive travel organisers in China and Singapore have been given an insight into the success story of ICC Sydney in the first roadshow of its type in region organised by a convention centre.
Senior executives from the Darling Harbour venue led by CEO Geoff Donaghy embarked on a series of briefings in Shanghai, Beijing and Hong Kong before the last leg of the tour in Singapore.
Donaghy said it was felt that ICC Sydney – which has been open for just over a year – had an obligation to reach out to vital markets in China and the rest of Asia. The CEO Asia Roadshow was also an opportunity to elevate Sydney's reputation as a world class business events destination with key decision makers.
At the Hong Kong stage of the roadshow, held at the Mandarin Oriental, a group of conference and incentive planners representing corporates, associations and MICE travel firms heard about large events at ICC including SAP's annual premier Asia-Pacific field sales event, SAP FKOM; 4,500 delegates from 128 countries for the International Bar Association Annual Conference, and more than 8,000 delegates for the Amway China Leadership Seminar.
More: 'Australia's best infrastructure project'
ICC Sydney will also be hosting leaders from the Association of Southeast Asian Nations for meetings during the Asean-Australia Week, March 12-18.
Donaghy said Hong Kong and Sydney share much in common with both being heralded as world cities and boasting impressive harbours.
ICC Sydney opened as the centerpiece of the city's Darling Harbour redevelopment and was recently joined by a new Sofitel in a neigbouring tower. A W Hotel is being built opposite and scheduled to open in 2019.
Donaghy added that the CEO Roadshow stops in Beijing and Shanghai were met with a positive response from business leaders in the two cities.
On the prospects of other new convention facilities vying for similar attention, Donaghy said: "Undoubtedly someone will build one as beautiful as ICC Sydney, but what they cannot match is the location."
More: ICC Sydney gives back with Legacy Program
The newly developed Barangaroo financial district near the ICC showed how the Darling Harbour area has been positioned to "meet the changing dynamic of business events".
After a successful first year that saw 1.3 million delegates, visitors and attendees at 755 events, including 36 major international events with more than 20 for Asia-based clients, Donaghy said ICC Sydney was now embarking on its "third wave". This would see stronger connections with the First Nation Australian communities in New South Wales, growing links with entrepreneurs who lead startups and fostering the next generation of thought leaders via student engagement.
Organisers holding events at the venue will be offered the opportunity to involve people from the third-wave Legacy Program in conferences and other projects.
Main picture: ICC Sydney's business development director Beverly Parker and chief executive Geoff Donaghy greet planner during the CEO Asia Roadshow