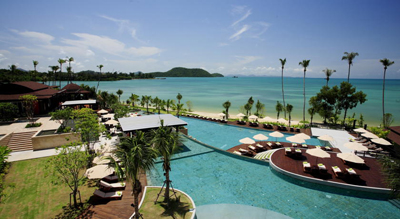 Carlson Rezidor Hotel Group has earmarked the opening of 100 hotels around the Asia Pacific region over the next five years. The group's expansion has been steady, with the opening of ten hotels and 23 signings in 2015, up from nine in 2014.
The 2020 target was announced at the Carlson Rezidor Asia Pacific Business Conference 2016, held in Bangkok where senior regional executives gathered at Radisson Blu Plaza Bangkok to celebrate the group's recent achievements and articulate the potential within the Asia Pacific portfolio over the next five years.
The group has announced that Thailand is one of the group's strongest performing destinations in Asia, where it operates four hotels in Bangkok under the Radisson Blu, Radisson and Park Plaza brands. Radisson Blu Resort Hua Hin is set to open in the second quarter of this year.
"Carlson Rezidor has been operating in Thailand for more than eight years. On the back of our strong growth momentum from 2015, we are aiming to add six more hotels across key destinations including Bangkok, Pattaya and Phuket within the next 18 months, which will more than double our presence in Thailand," said Thorsten Kirschke, president, Asia Pacific, Carlson Rezidor Hotel Group.
Carlson Rezidor is working on rolling out its Radisson RED brand across Southeast Asia, as well as in cities such as Auckland, Kuala Lumpur, Perth and Sydney. Earlier this month, the group signed Radisson RED Guangzhou South Station, the fifth Radisson RED hotel under development in the region. In 2015, three Radisson RED hotels were signed in Asia Pacific.
In 2015, the group entered Vietnam with the signing of Radisson Blu Cam Ranh Bay. It also strengthened its position in the mega-markets of India and Indonesia, and began expansion plans in Australasia.
Carlson Rezidor's portfolio in Asia Pacific stands at 108 hotels in operation and 91 hotels under development.